Dyson Purifier Cool™ AutoReact
Captures dust, allergens and H1N1 virus1
Removes 99.95% of ultrafine particles2
Purifies the whole room3
Sealed to HEPA standard – what goes inside, stays inside4
Captures H1N1 virus*
*
We challenged our purifier with airborne influenza A (H1N1 virus) at an independent lab. After 60 minutes at maximum fan speed, the airborne concentration in the chamber was reduced by 99%. Real-life efficacy may vary.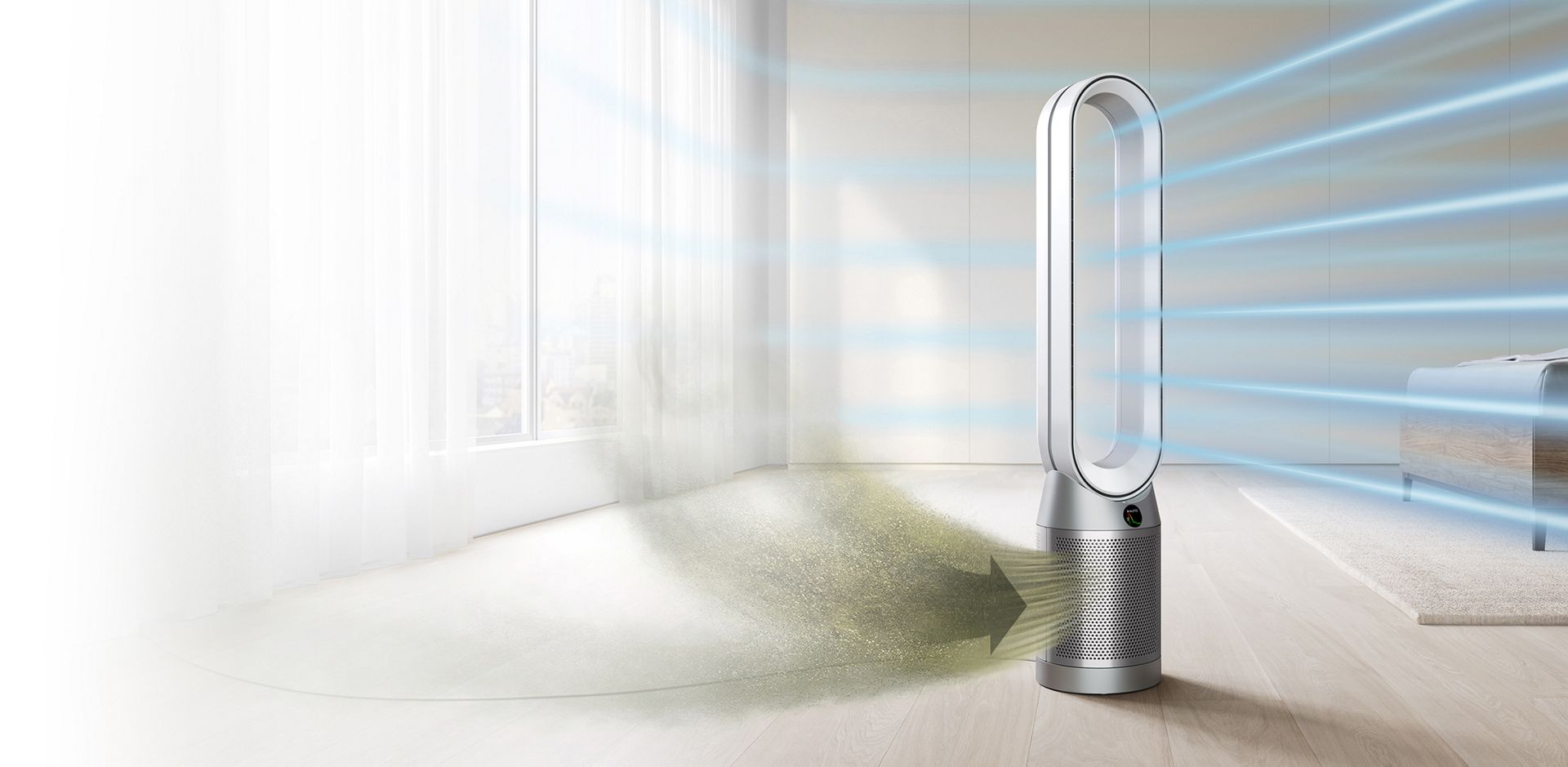 Dyson purifiers are tested beyond the industry standard
We test our purifiers in a room size of 81m³, with nine sensors that continuously measure air quality. Some other manufacturers use a small 28.5m³ chamber, with only one sensor and a fan to boost circulation.

Industry-standard test chamber – only 28.5m³

Dyson POLAR test chamber – 81m³
Poor air quality isn't just a problem outside. It's a problem inside too.
From plant pollen and cooking fumes, to VOCs and benzene found in sprays and candles, our homes can trap pollutants in the air. That's why Dyson purifiers automatically sense and remove them.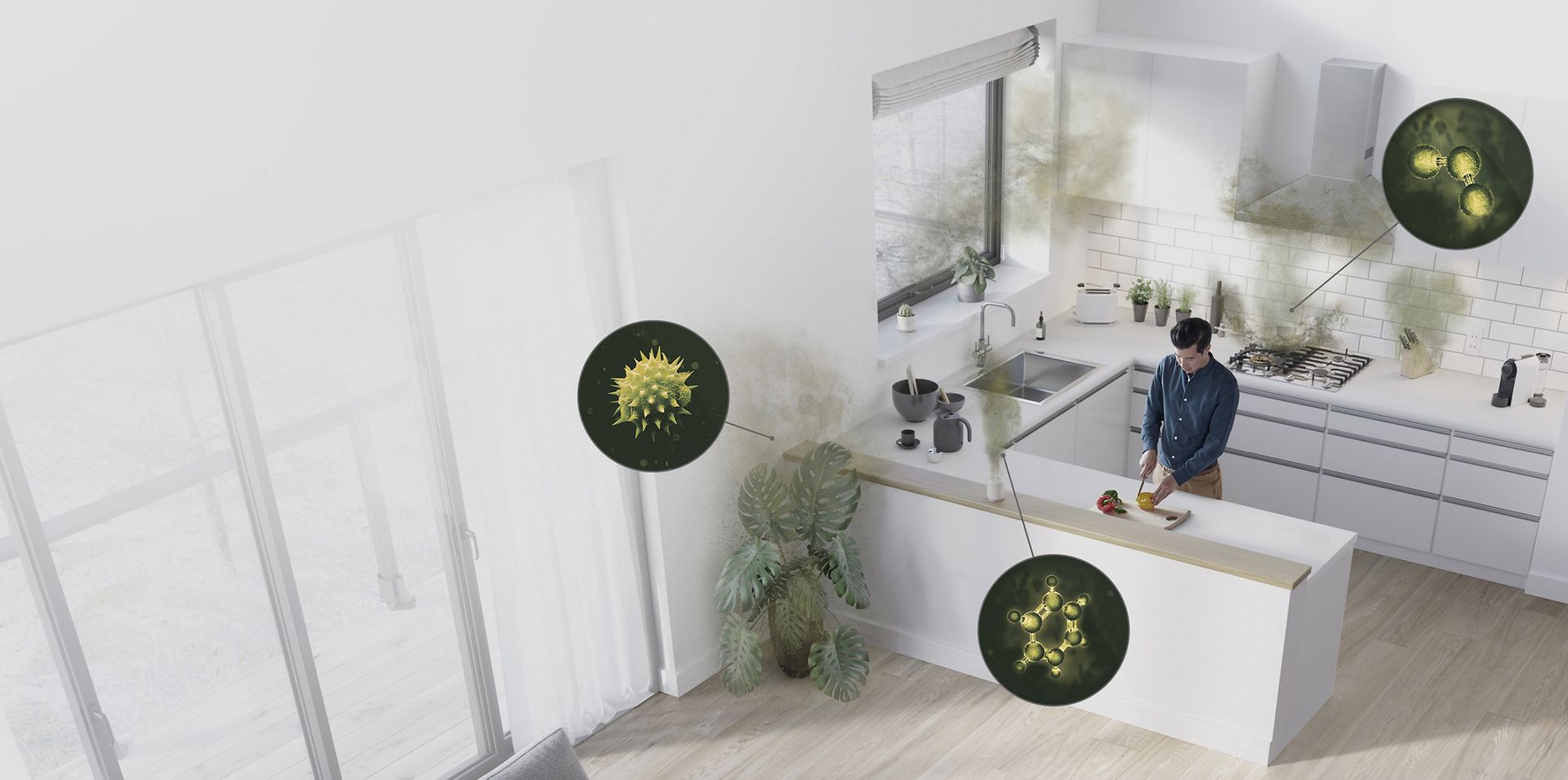 Captures microscopic particles and gases
The fully-sealed filtration system captures many common household pollutants including pollen, bacteria and odours.

Senses and reports, automatically
Three sensors constantly analyse your air, while our unique algorithm cross-checks data every second. To precisely monitor, display and react to your air quality.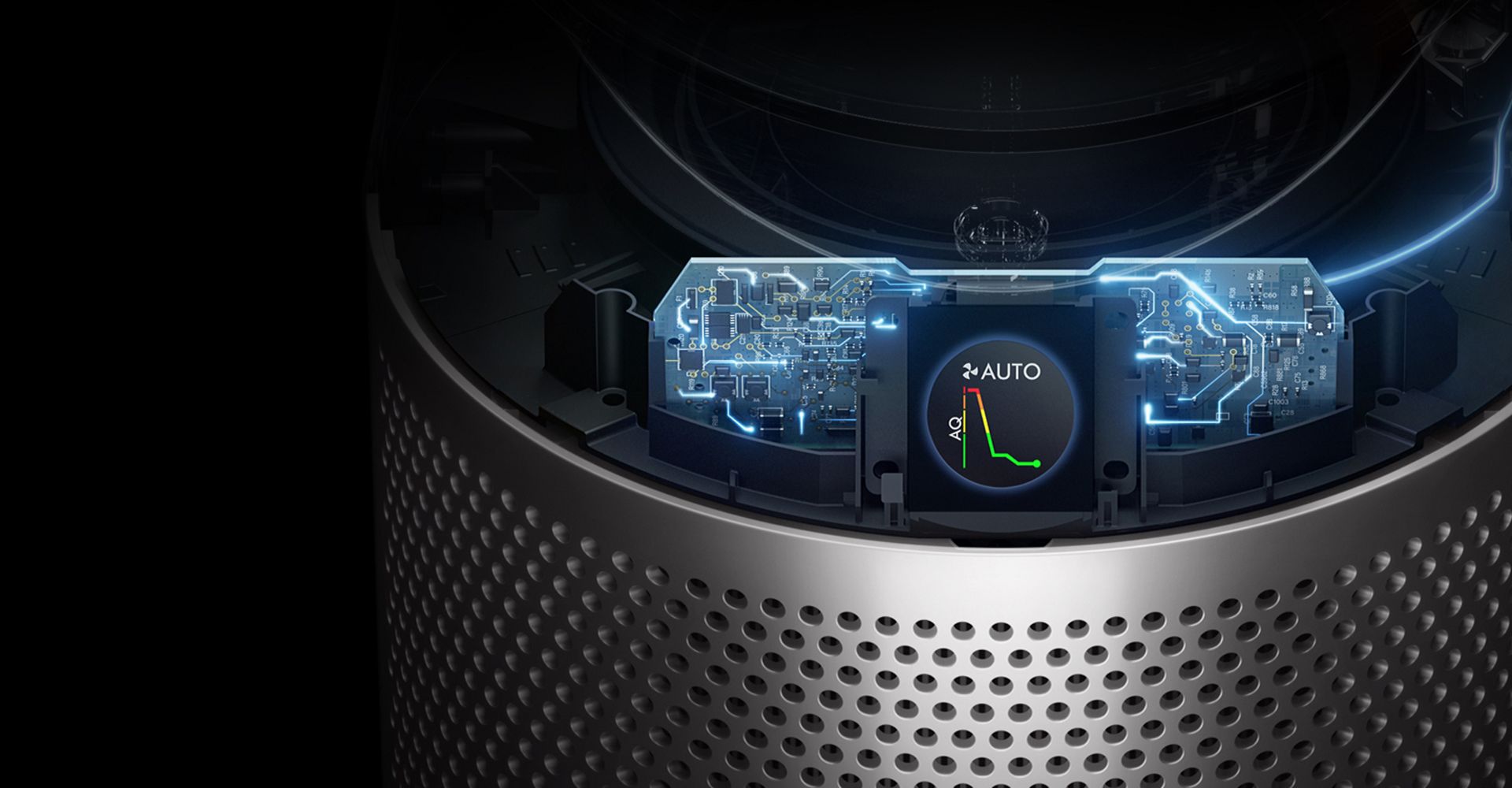 Captures and removes with HEPA filtration
HEPA filter captures 99.95% of particles as small as 0.1 microns.2 Activated carbon absorbs gases5, odours and VOCs.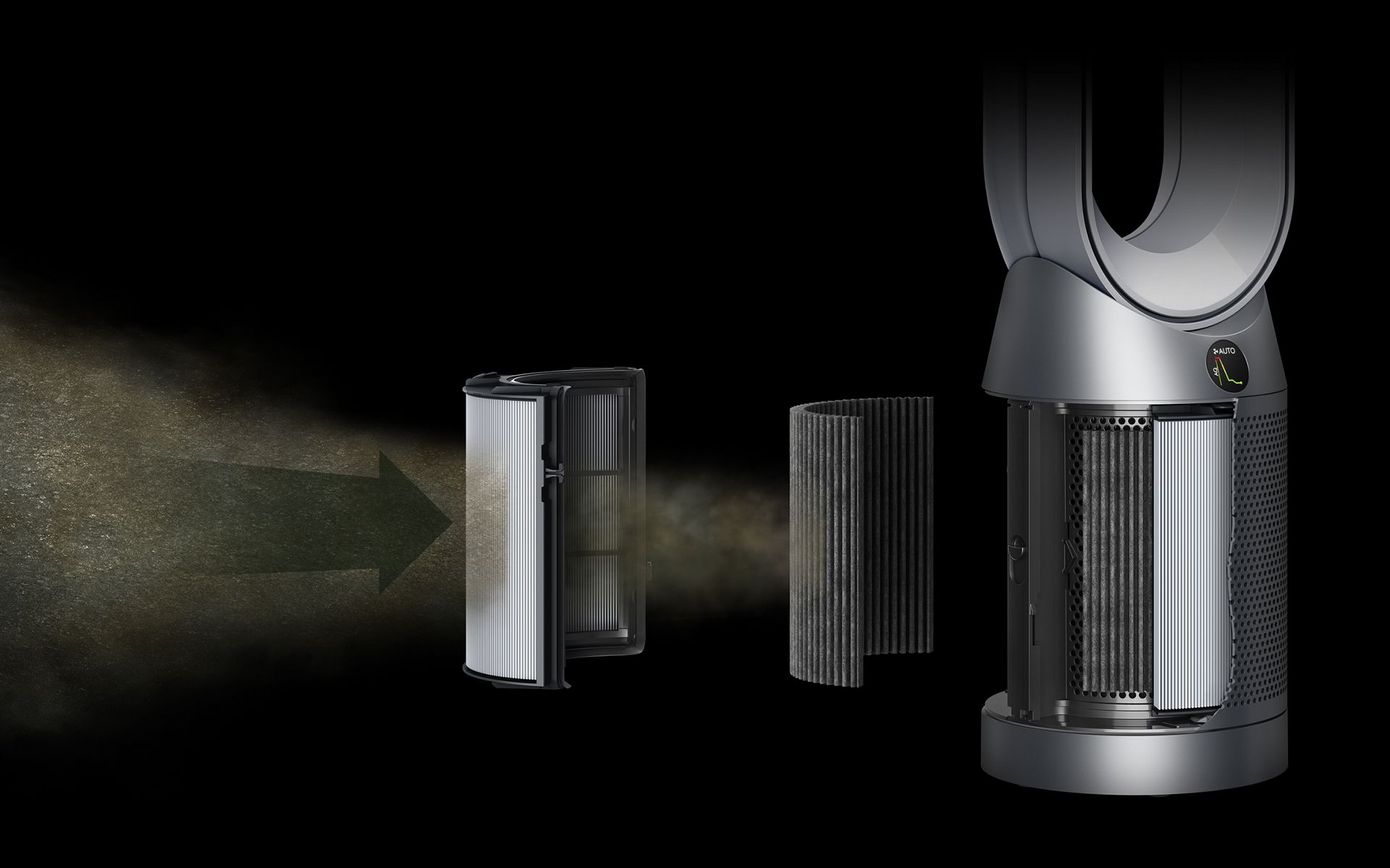 The only purifier sealed to meet HEPA standard4
To prevent pollutants leaking back into the air, it's not just the filter that's sealed to HEPA H13 standard, it's the whole purifier.4 So what goes inside, stays inside.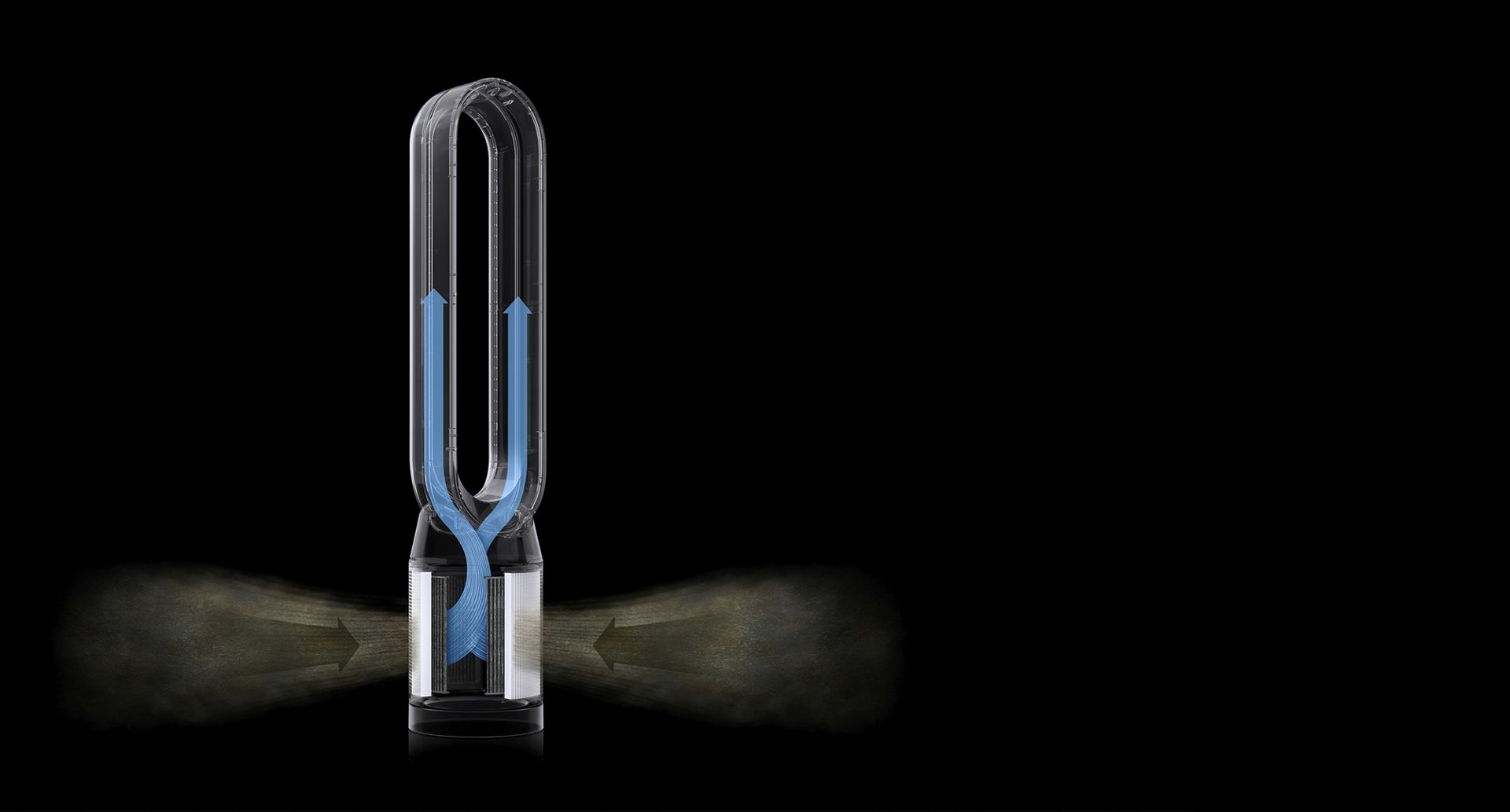 Additional features
Diffused mode. Purifies without cooling you.

Airflow is diverted through the back of the machine, maintaining effective purification.

Night mode

For lighter sleepers, it monitors and purifies using the quietest settings along with a dimmed display.

20% quieter

Acoustically engineered to reduce turbulence, so it's 20% quieter than the previous model.

Easy filter care

Your HEPA+Carbon filter is easy to change and the LCD screen will alert you when it's time.
Frequently asked questions
Dyson engineers are perfectionists. Channelling our relentless dissatisfaction, we have re-engineered the Dyson Purifier range to be our first purifiers fully sealed to HEPA H13 standard. Capturing 99.95% of ultrafine particles and preventing pollutants from leaking back into the air you breathe.
We recommend replacing the HEPA+Carbon filter every 12 months. That's because over time, filters can get clogged with pollutants, and even let unpleasant odours back into the room. The machine will alert you when it's time to change filters. A filter life reading can be found on the LCD screen.
Black Friday
Detects and destroys formaldehyde, continuously¹
Purifies and hygienically humidifies a whole room²
Lifetime solid-state formaldehyde sensor
Captures H1N1 virus⁴
Black Friday Offer. Save SAR600.
Was

3,199.00SAR
2,599.00SAR
Save

600.00SAR
Black Friday
HEPA H13 purifier and fan
Detects and destroys formaldehyde. Automatically senses and displays real-time air quality
Whole-room purification for larger spaces
Control using the Dyson Link app
Black Friday Offer. Save SAR500.
Was

2,799.00SAR
2,299.00SAR
Save

500.00SAR
Captures dust, allergens and bacteria.
Whole-room purification. Heats and cools you.
Control with remote. Not app compatible.
Captures dust, allergens and bacteria.
Whole-room purification. Cools you.
Control with remote. Not app compatible.