Dyson Supersonic™ hair dryer
Fast drying.
No extreme heat.
Now with the new Flyaway attachment.
Five attachments to style your hair your way.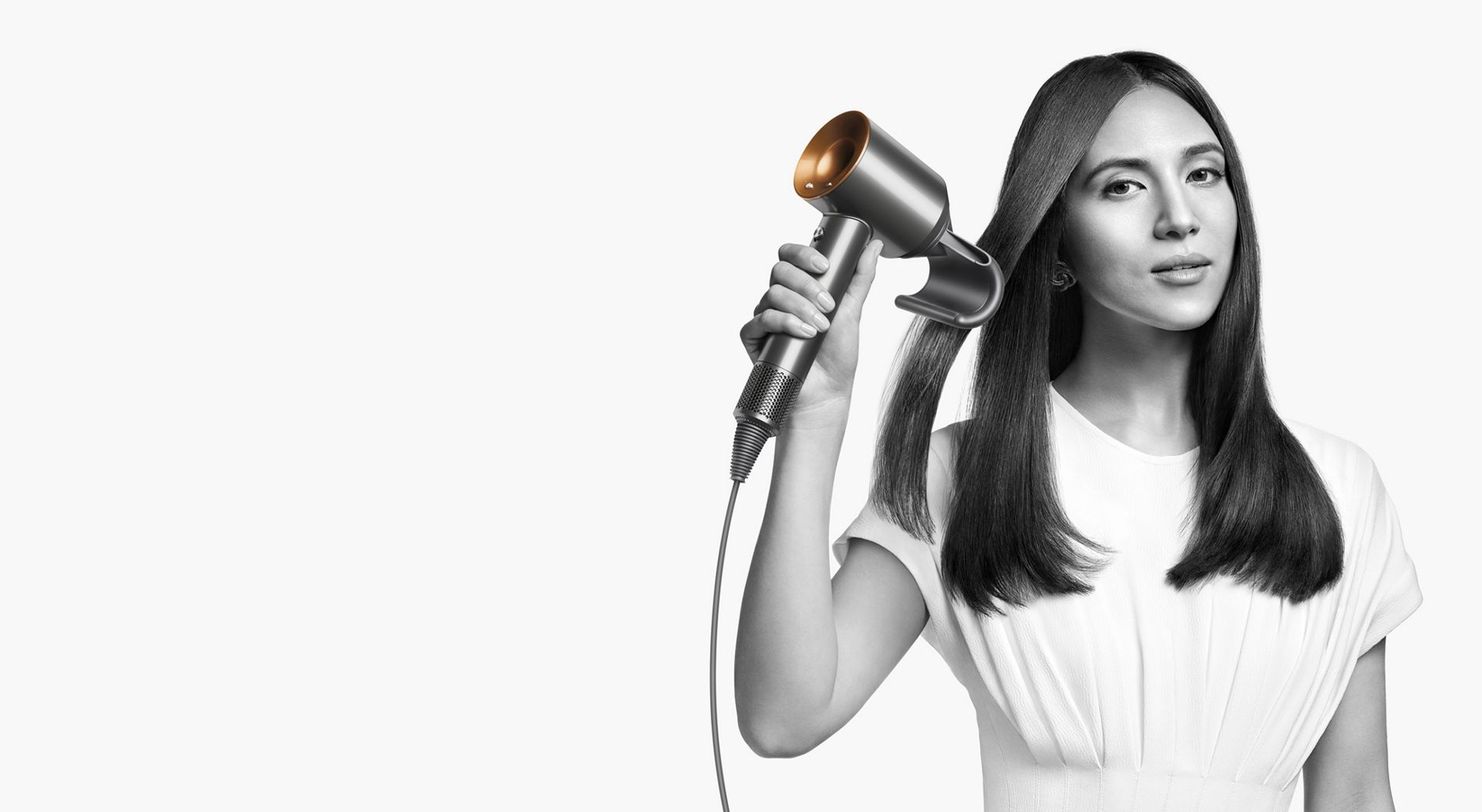 Buy direct from the people who made it
Gift edition
Special edition Dyson Supersonic™ hair dryer.
Now in Vinca blue and Rosé.
With Dyson-designed Presentation case, Paddle brush and Detangling comb worth SAR699.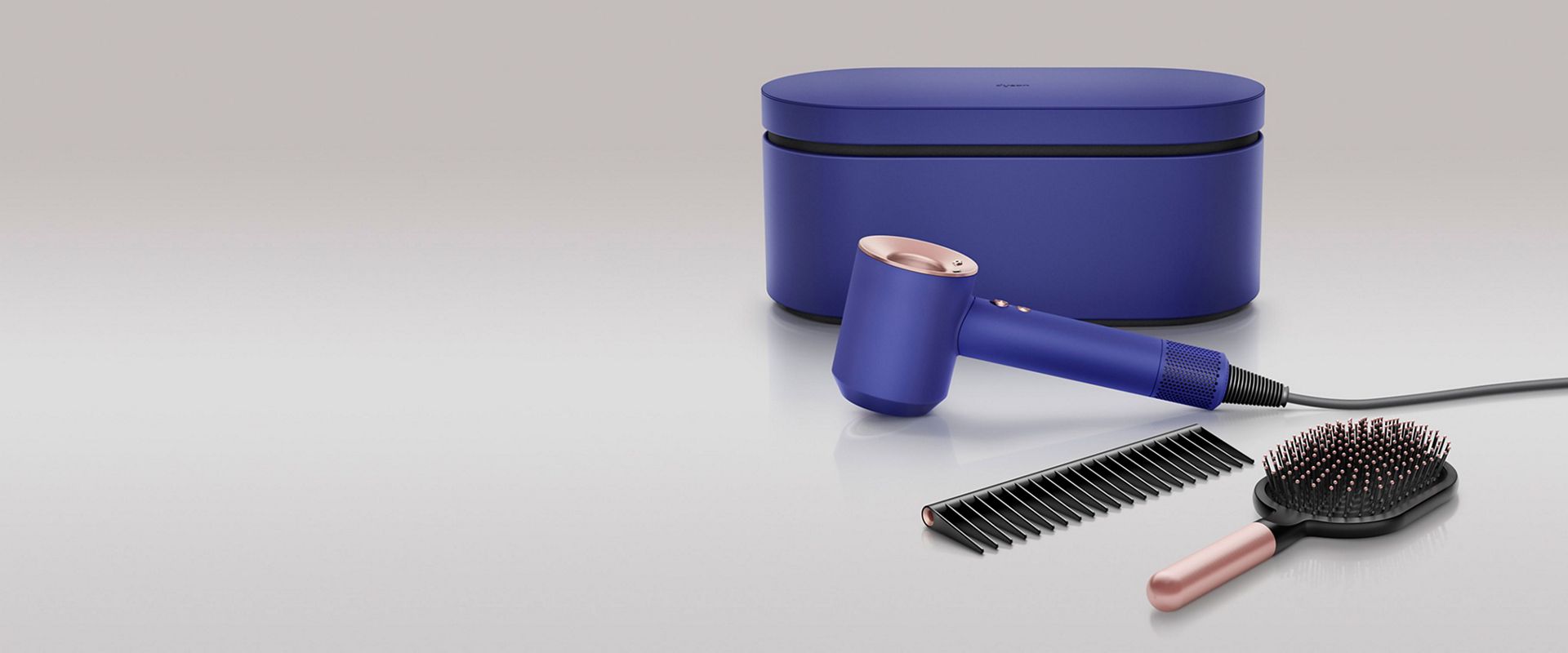 Winner of 'Best Hair Dryer'
"Still unbeaten for the speed at which it dries our hair beautifully, while it protects it perfectly."

Harper's Bazaar Best of the Best Beauty award 2020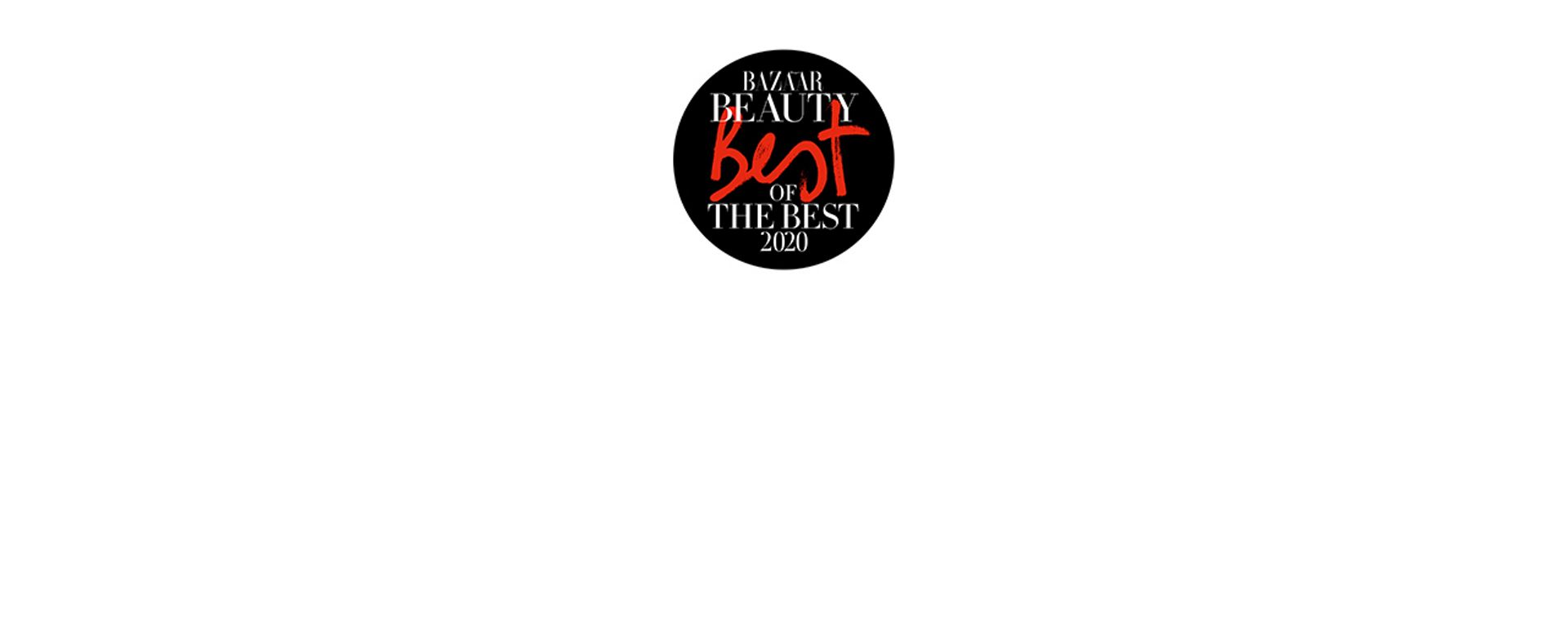 Marie Claire Hair Awards Winner
Dyson Supersonic Hairdryer – winner of 'Best Hair Dryer' in the Marie Claire Hair Awards 2020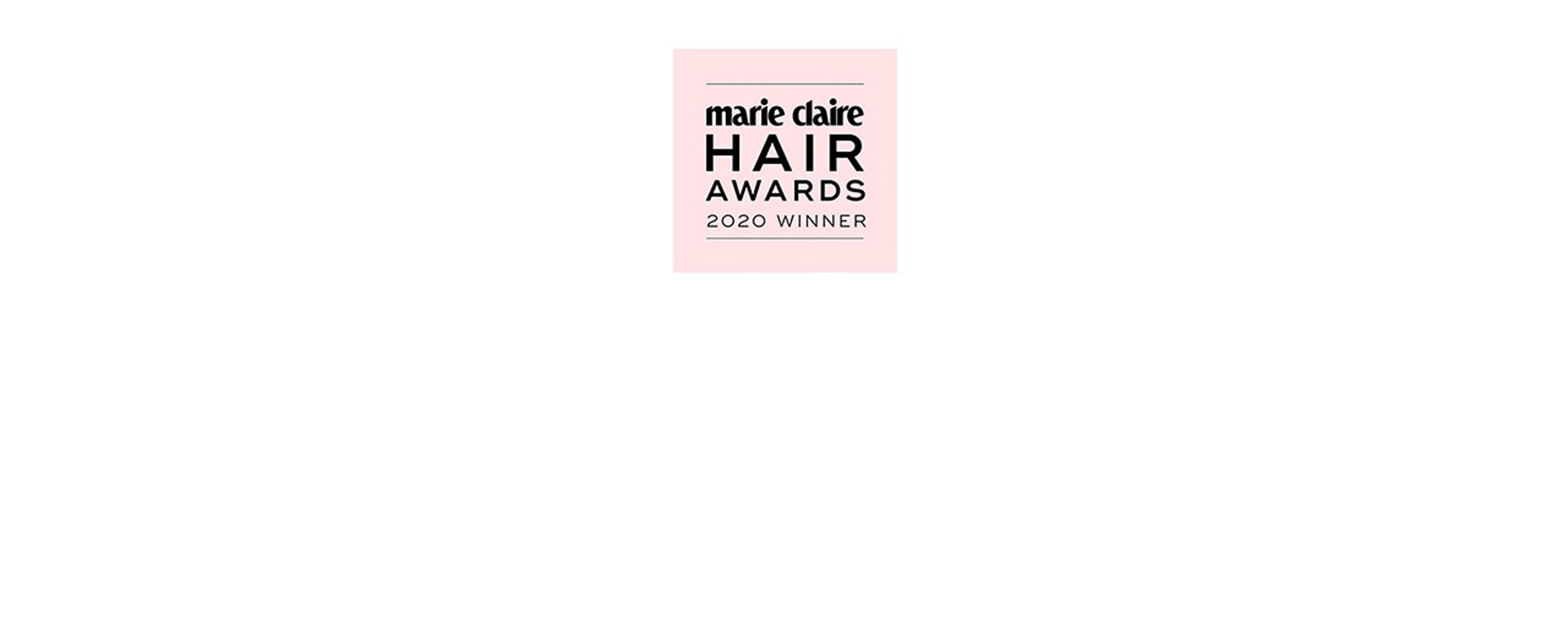 Our latest technology hides flyaways in a single pass. For a smooth, shiny finish.1
Inspired by professional stylists, the new Flyaway attachment harnesses the Coanda effect to lift longer hairs and hide flyaways. Giving you a smooth, salon finish1, at home.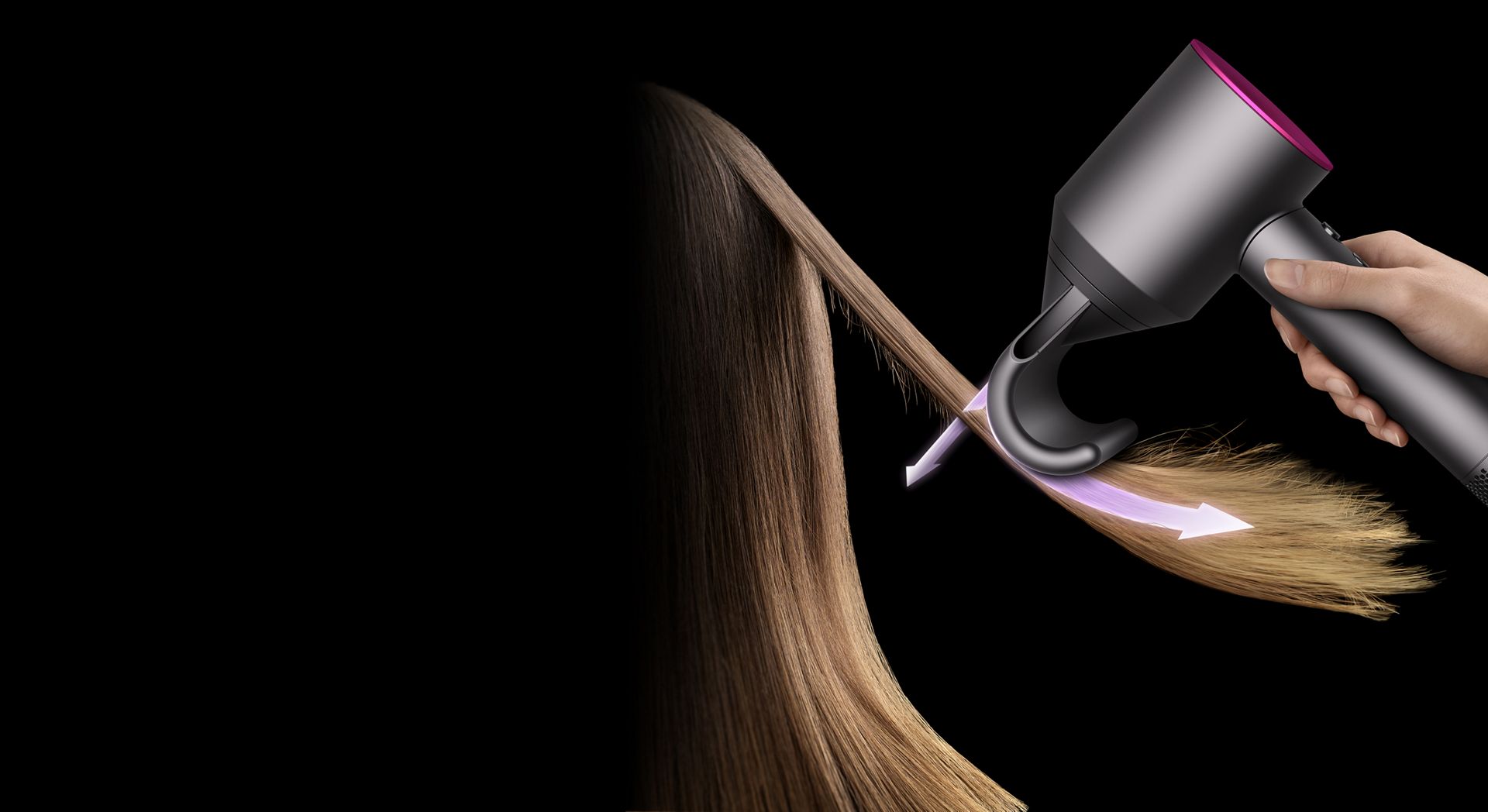 Engineered for different hair types.
After rigorously testing different hair types in our laboratories, we've engineered a range of attachments designed to style different types of hair. And because we're constantly evolving our machines, we've developed a new Flyaway attachment.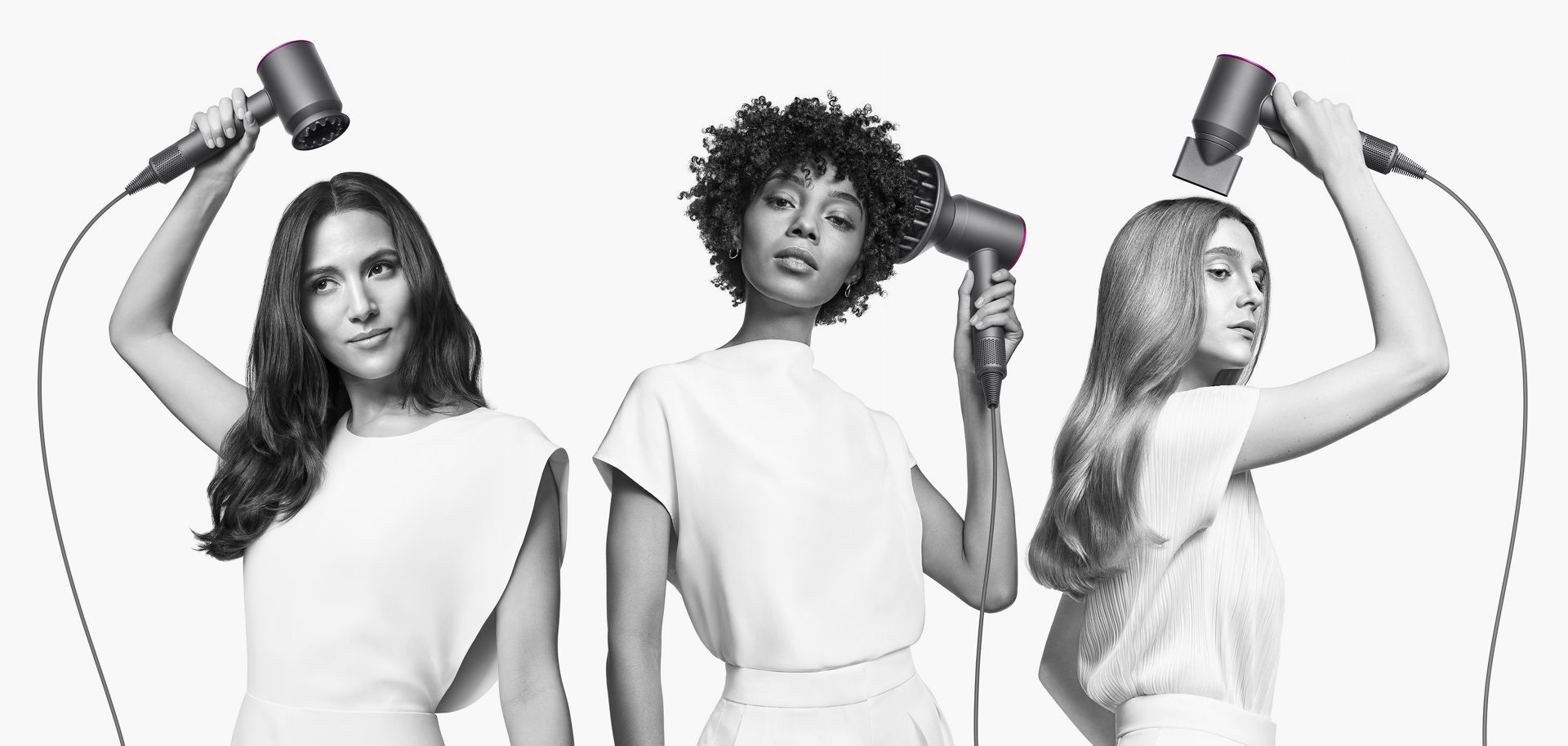 Magnetic styling attachments
Flyaway attachment for a smooth finish1
The ideal finishing tool for sleek, straight styles. Hides flyaways under longer hair to give you a smooth, shiny finish.1 With just air.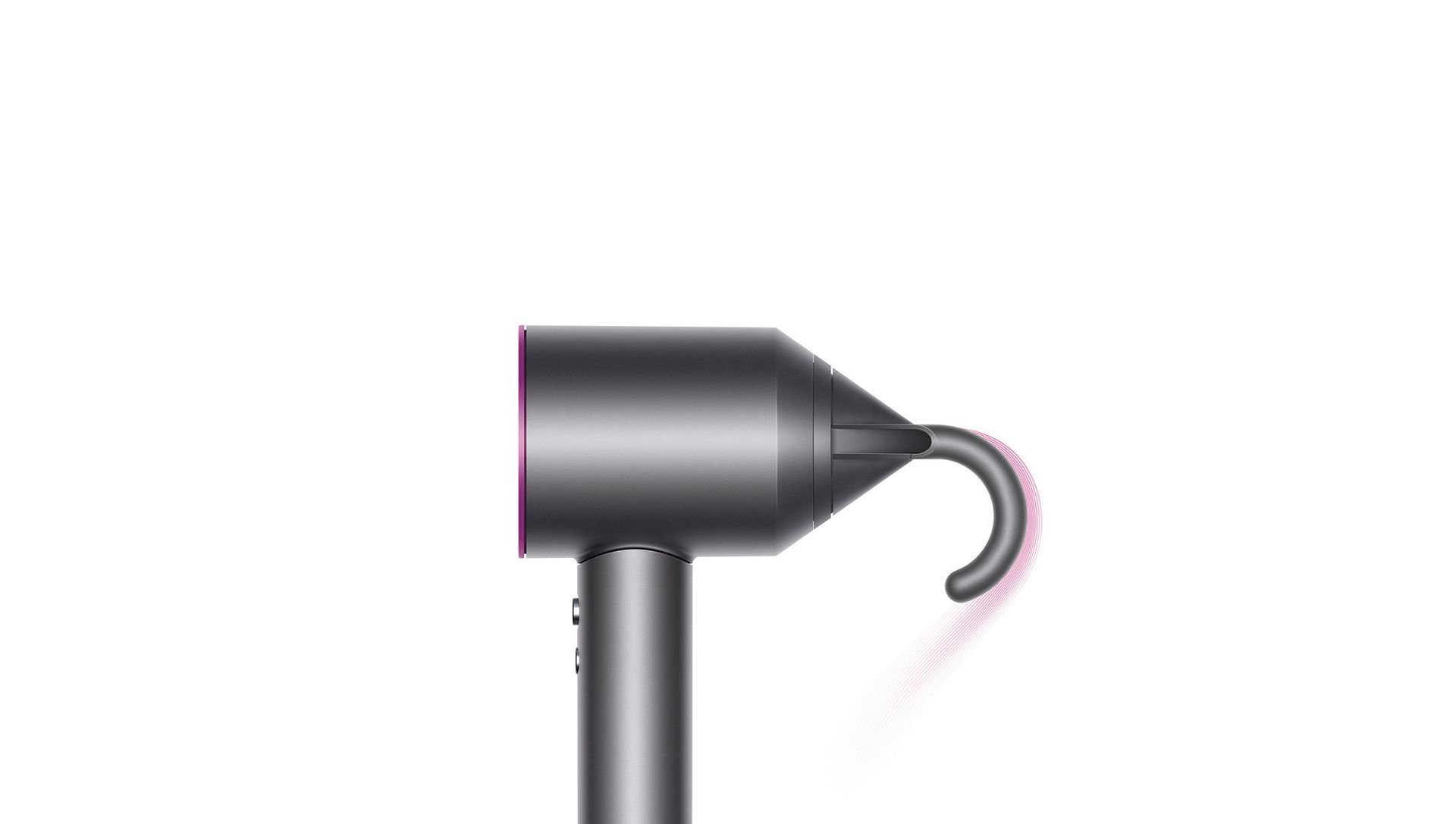 Styling concentrator for focussed styling
The wider, thinner design3 of the re-engineered Styling concentrator creates a high-velocity blade of air that's perfect for styling. And because the air is focused, you can style one section at a time – without disturbing the rest.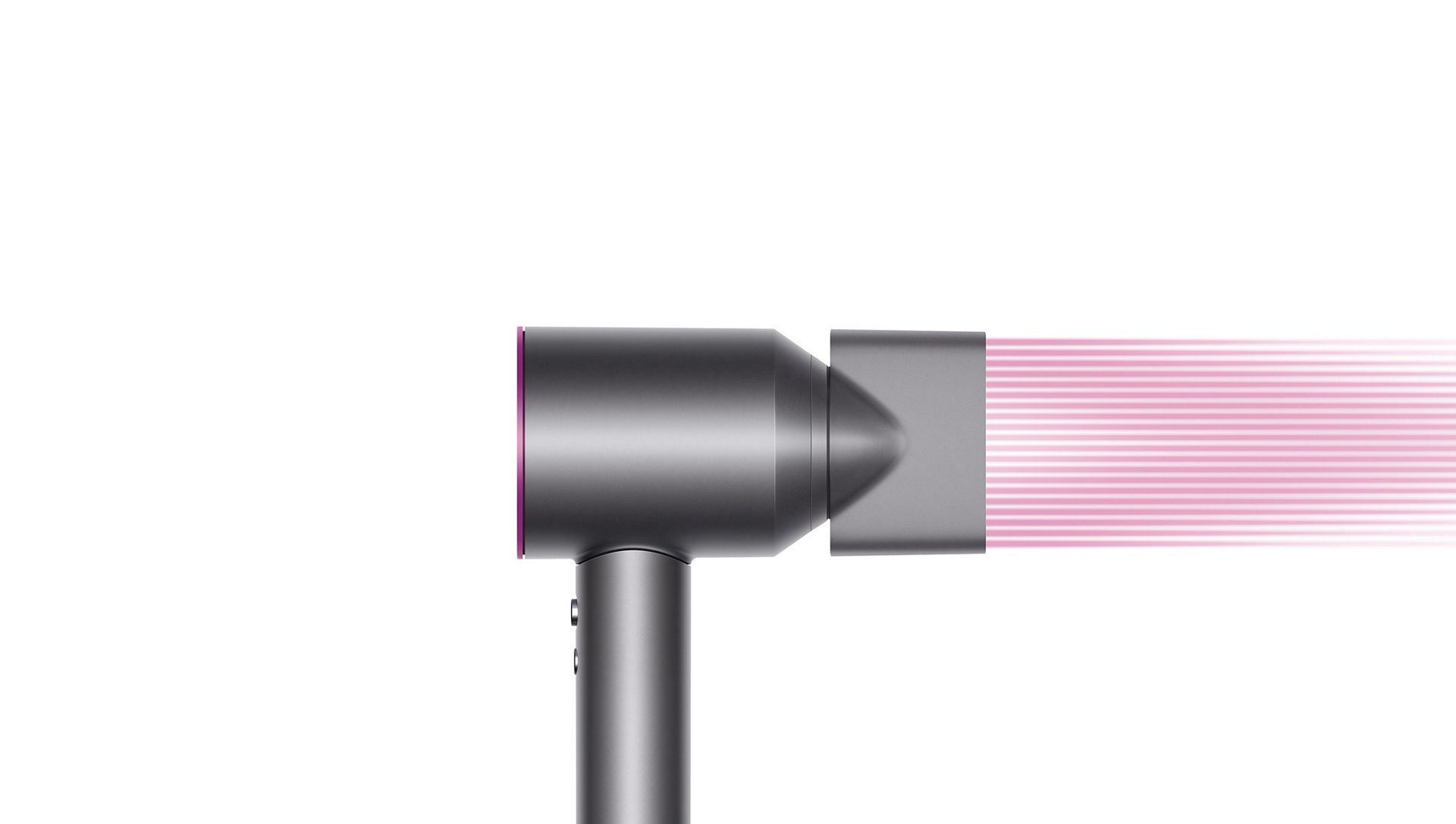 Diffuser for defined curls and waves
Re-engineered to disperse air more evenly around your curls, the Diffuser simulates natural drying, helping to reduce frizz and define curls and waves. Longer prongs allow you to style more hair with greater control – and reach deeper into the hair.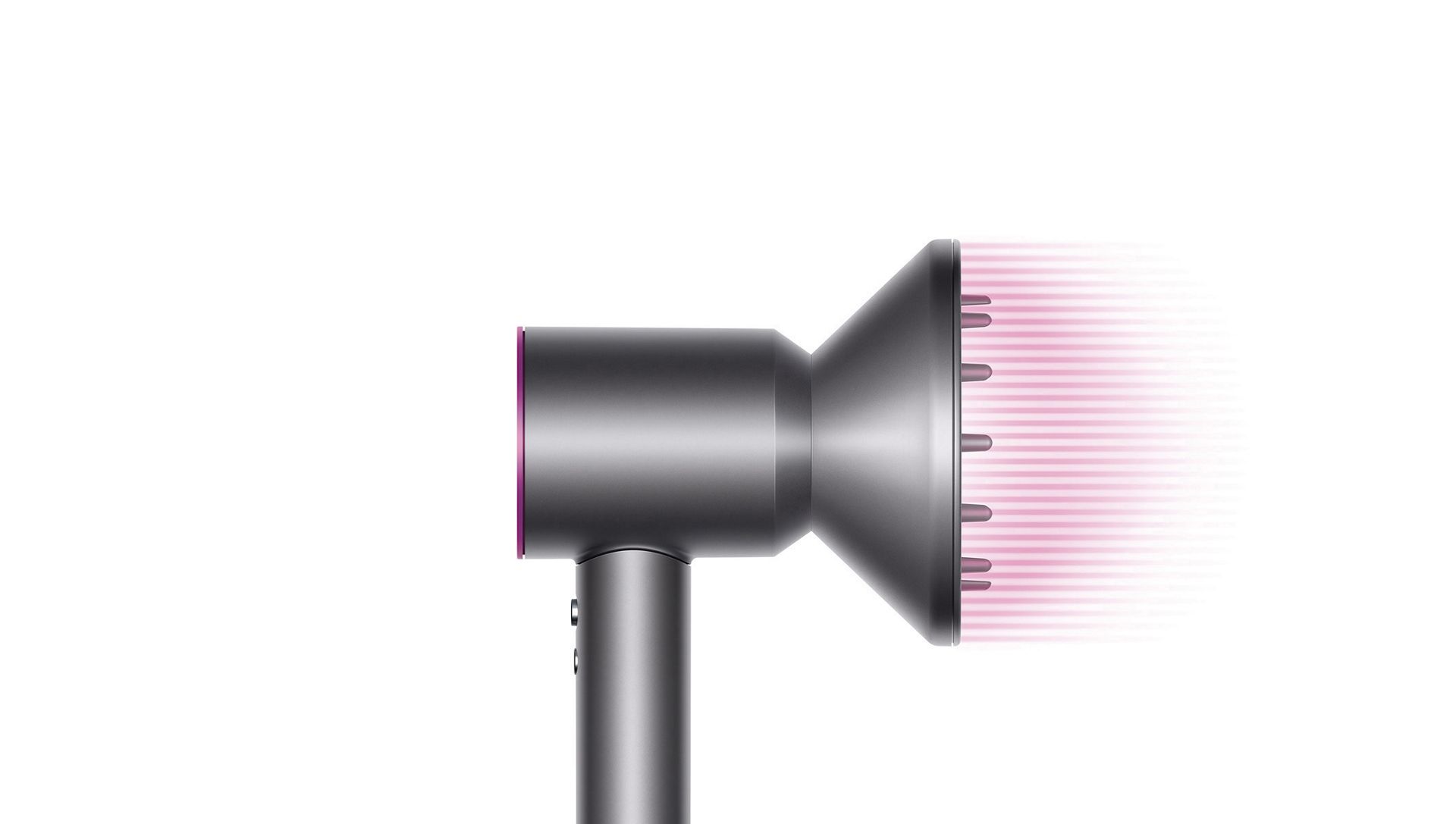 Gentle air for fine hair and sensitive scalps
Engineered to be kinder to fine hair and sensitive scalps, the new Gentle air attachment diffuses the air, creating a gentle, cooler airflow – while still drying hair fast.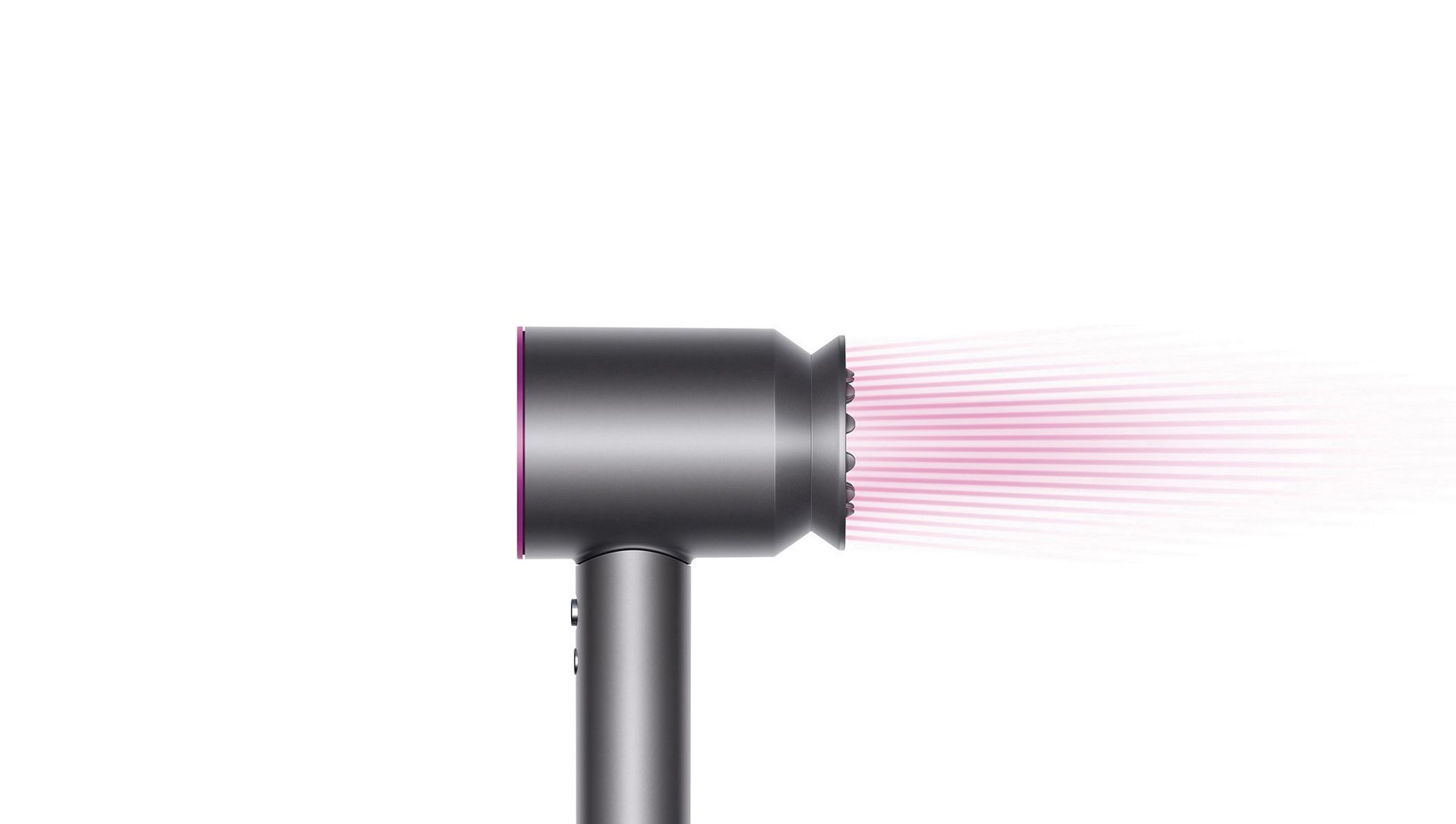 Wide-tooth comb creates volume and shape
Engineered for curly and textured hair, the new Wide-tooth comb attachment has robust teeth to help lengthen hair as it dries, or create volume and shape.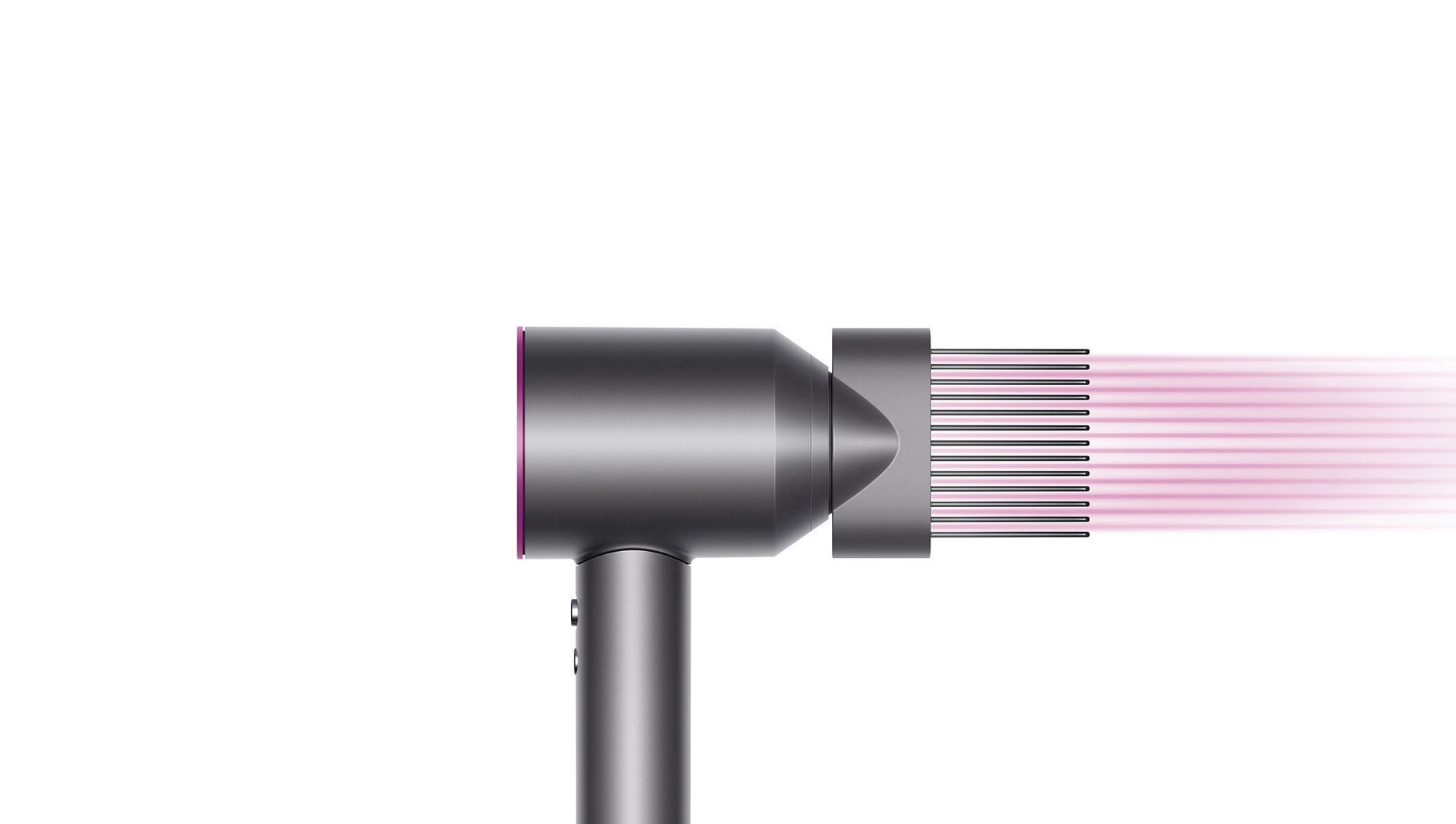 Hair science
Healthy hair reflects light

Extreme temperatures can make small pores appear within the strands. These scatter light in all directions, decreasing shine. The Dyson Supersonic™ hair dryer's intelligent heat control helps prevent extreme heat damage. And less damaged hair reflects more light in a single direction, so hair appears shiny.

Heat and colour loss

Whether your hair's dyed or natural, high heat can change its proteins, causing the colour to fade. The Gentle air attachment can help prevent this by maintaining a lower temperature.

Helps protect your scalp

High heat can affect your scalp health. The Gentle air attachment is engineered to diffuse the airflow and lower the temperature by up to 20°*. So it's kinder to sensitive scalps.
Intelligent heat control helps protect your shine
Unlike some others, the Dyson Supersonic™ hair dryer measures air temperature over 40 times a second, and regulates the heat. This prevents extreme heat damage, to help protect your hair's shine.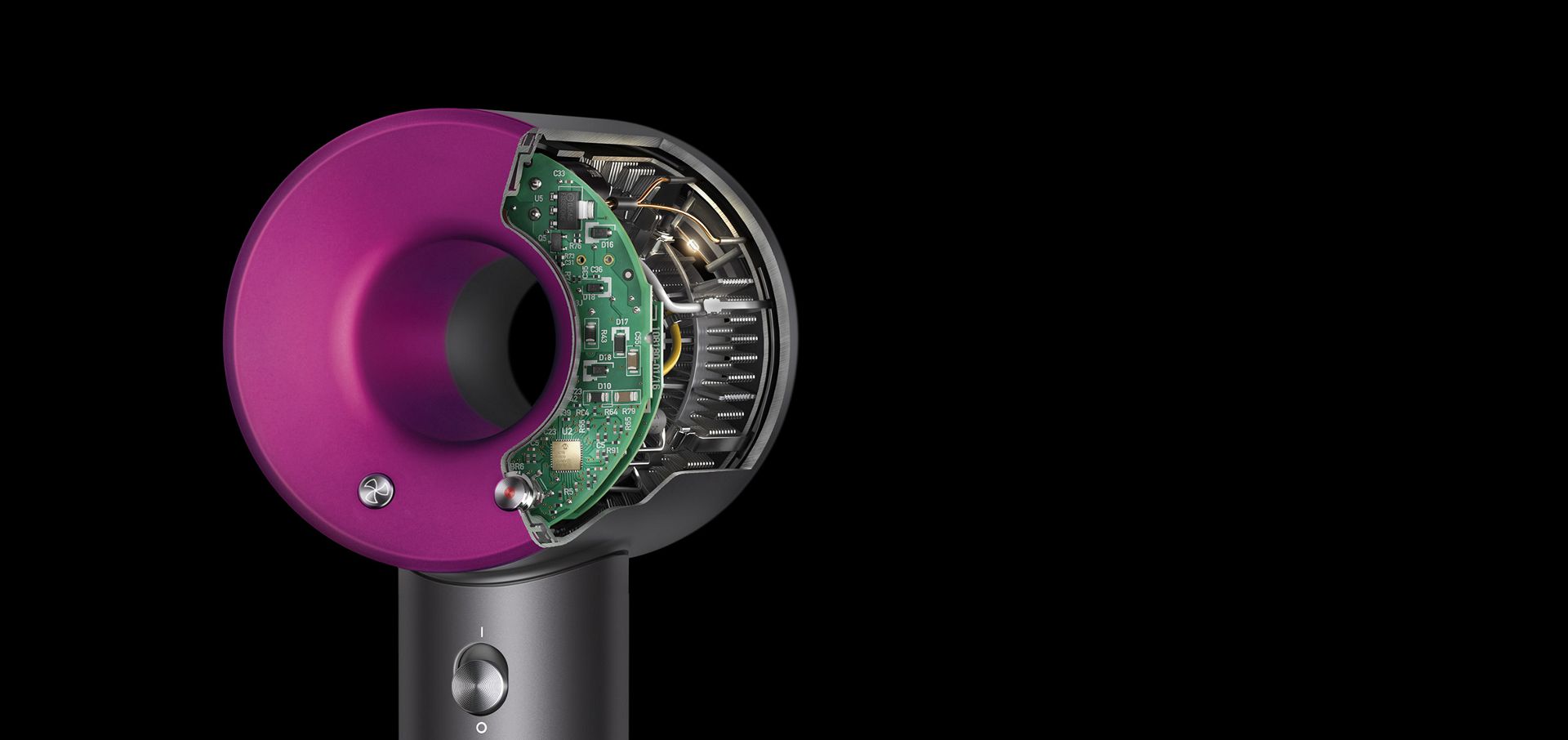 Styling guides
Watch our quick, step-by-step guides to achieving your ideal style.
Smooth blowout

See how to smooth and add volume to long, straight hair.

Bantu knots

Learn how to create sharp knots with curly hair.

Defined curls and waves

Create defined curls, and add volume and shine.

Twist out

Create textured twists with curly hair.

Everyday blow dry

Add natural volume and create flicks.

Korean volumised style

Learn how to create a straight style with natural volume for men.

Textured with volume

See how to create a textured style for men.

Flyaway attachment

Learn how to use the Flyaway attachment to finish a style.
"The new Flyaway attachment makes it super easy to achieve a salon finish at home."
Larry King
Professional Hairdresser
Dyson Supersonic™ Hair Dryer (Iron/Fuchsia) Reviews
I loveddd itt!!!

Shaymaa Binrabbaa

I love how quieter the dryer, and how is easy to use.

Much faster in drying my hair than any other product .

And the best thing is, how light it is, doesn't hurt your

...
Read More hand .

Overview
Exclusive to Dyson.sa
Includes Dyson-designed presentation case in Prussian blue.
Powerful digital motor. Designed for fast drying.
Five styling attachments. Including the new Flyaway attachment.
Frequently asked questions
To maintain optimum performance, your Dyson Supersonic™ hair dryer needs regular care and maintenance. We recommend cleaning the filter once a month. Debris should be wiped from the outer filter cage and from the inner filter mesh using a soft, dry cloth.
Yes, new attachments are fully compatible with older versions of Dyson Supersonic™ hair dryers.
In salon environments filters can clog more quickly with hairspray, so it's therefore best to purchase a Dyson Supersonic™ hair dryer Professional edition where the filter has been designed to meet the needs of a busy salon. The consumer warranty doesn't cover use in commercial environments or if it's used for 2+ hours a day.
To maintain optimum performance, your Dyson Supersonic™ hair dryer needs regular care and maintenance. We recommend cleaning the filter once a month.
The voltage is 220-240V in the UK. Your hair dryer has been precisely engineered for fast drying and styling at the voltage of the country in which it was purchased. As voltage varies from country to country, please follow the guidance on usage in the guarantee section of your user manual.
The Flyaway attachment should be used only on dry and straight hair or hair that's been straightened.
Hold the attachment at the top of your head until your hair is attracted to it. Then slowly run it down the length of your hair without pressing down on it.

Get more from your Dyson with the MyDyson™ app
Styling masterclasses

Hairstyle inspiration and tips on perfecting your technique, from styling experts.

Expert guides and content

Expert how-to guides, helping you master different styling attachments. For every hair type and style.

Priority owner access

Receive invites to exclusive events and be among the first to hear about the latest Dyson technology.
Buy direct from the people who made it