Dyson Purifier Humidify+Cool Formaldehyde
Captures dust, allergens and H1N1 virus². Even destroys formaldehyde.¹
Hygienically humidifies by removing 99.9% of bacteria in the water.

Fully sealed to HEPA standard³
Purifies by removing 99.95% of ultrafine particles⁴
Detects formaldehyde found in household items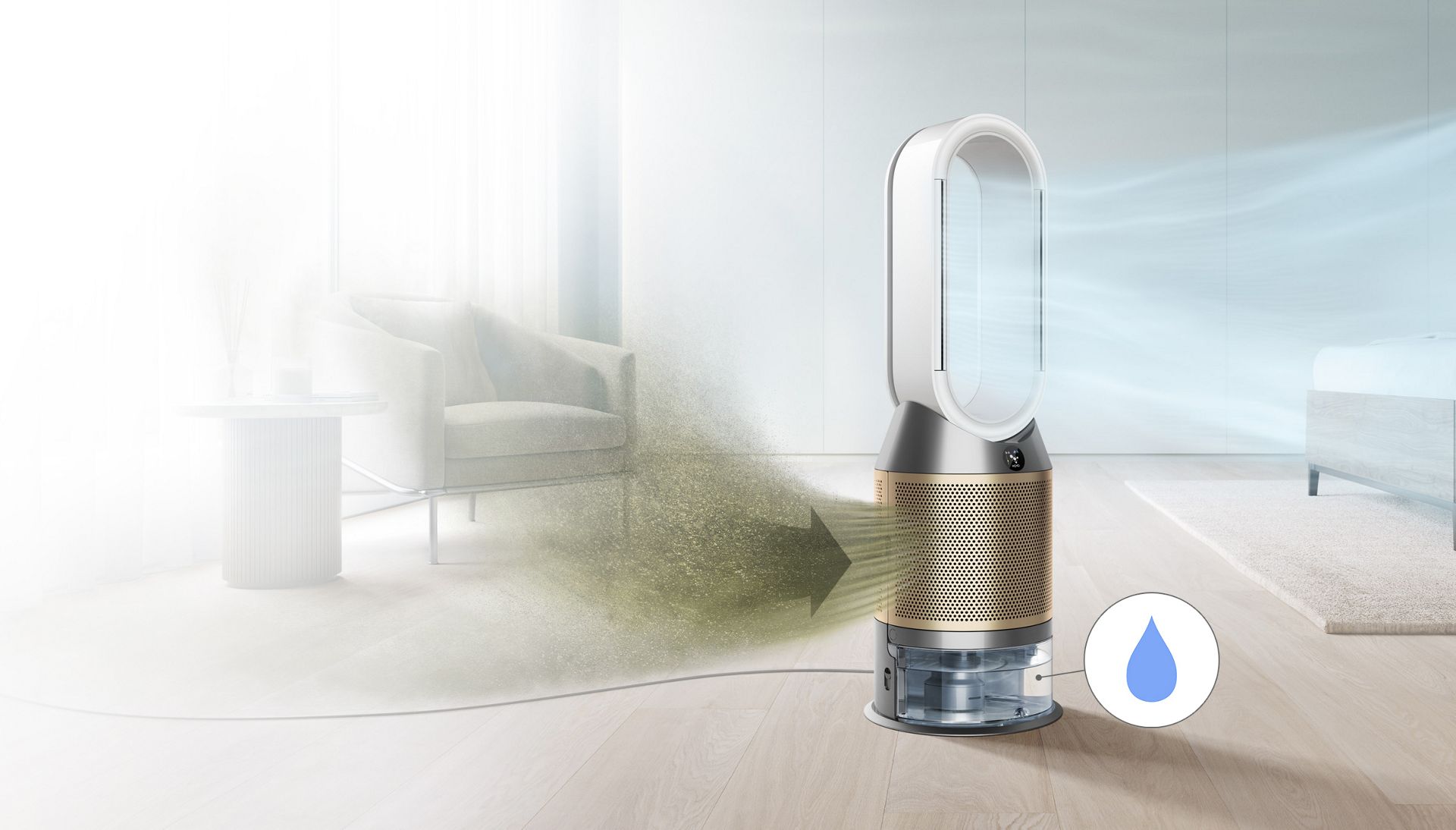 Buy direct from the people who made it
Improve the air quality inside your home
Pollution isn't just a problem outside. In fact, the average home can be up to seven times more polluted than the air outside.⁵ On top of this, dry air from central heating and air conditioning can affect the air we breathe. Fortunately, we have a solution to both – all year round.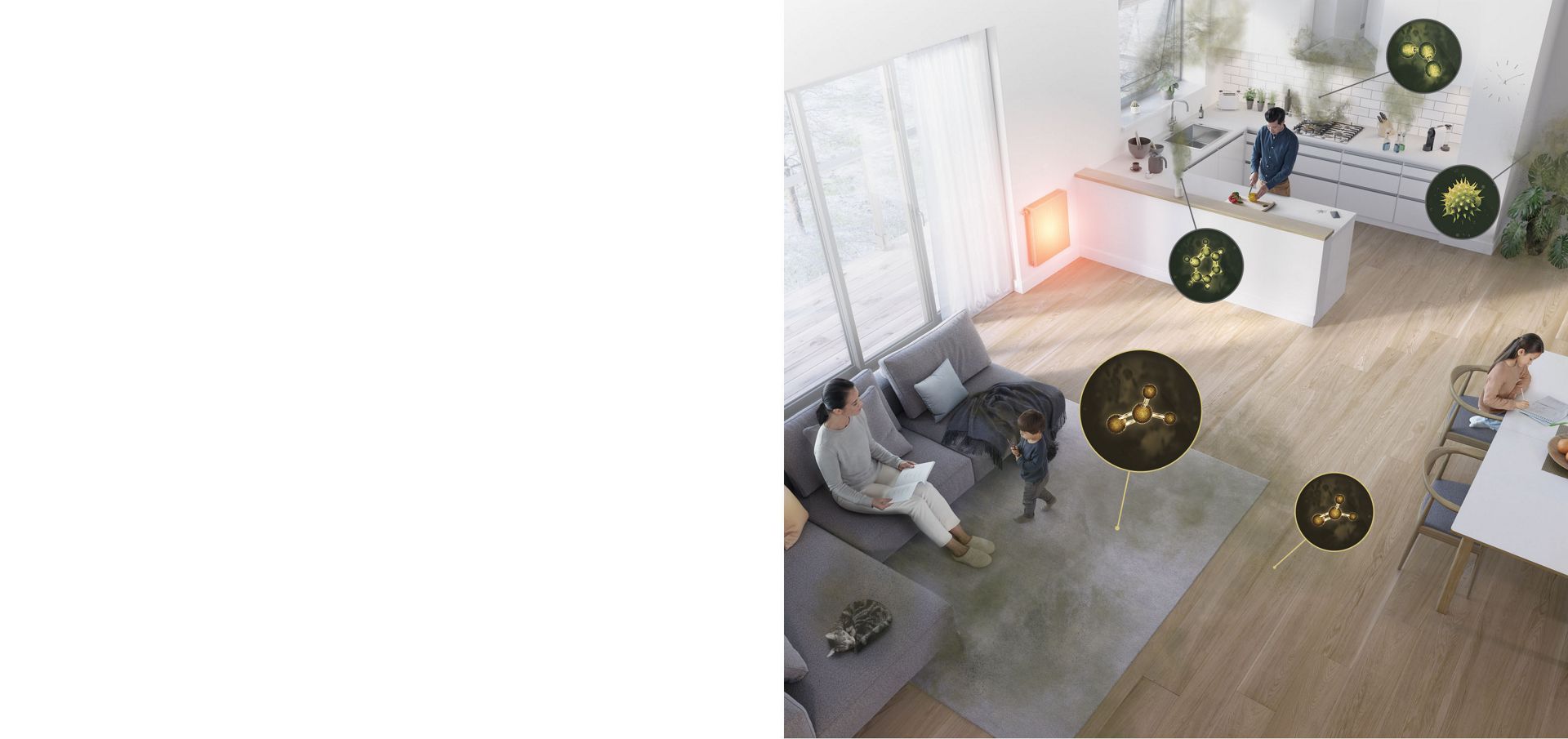 Why humidification matters
Our machine has in-built intelligence that can help with dry air by adding moisture automatically. This optimises humidity levels in the air by projecting an invisible stream of evaporated water – with no mist.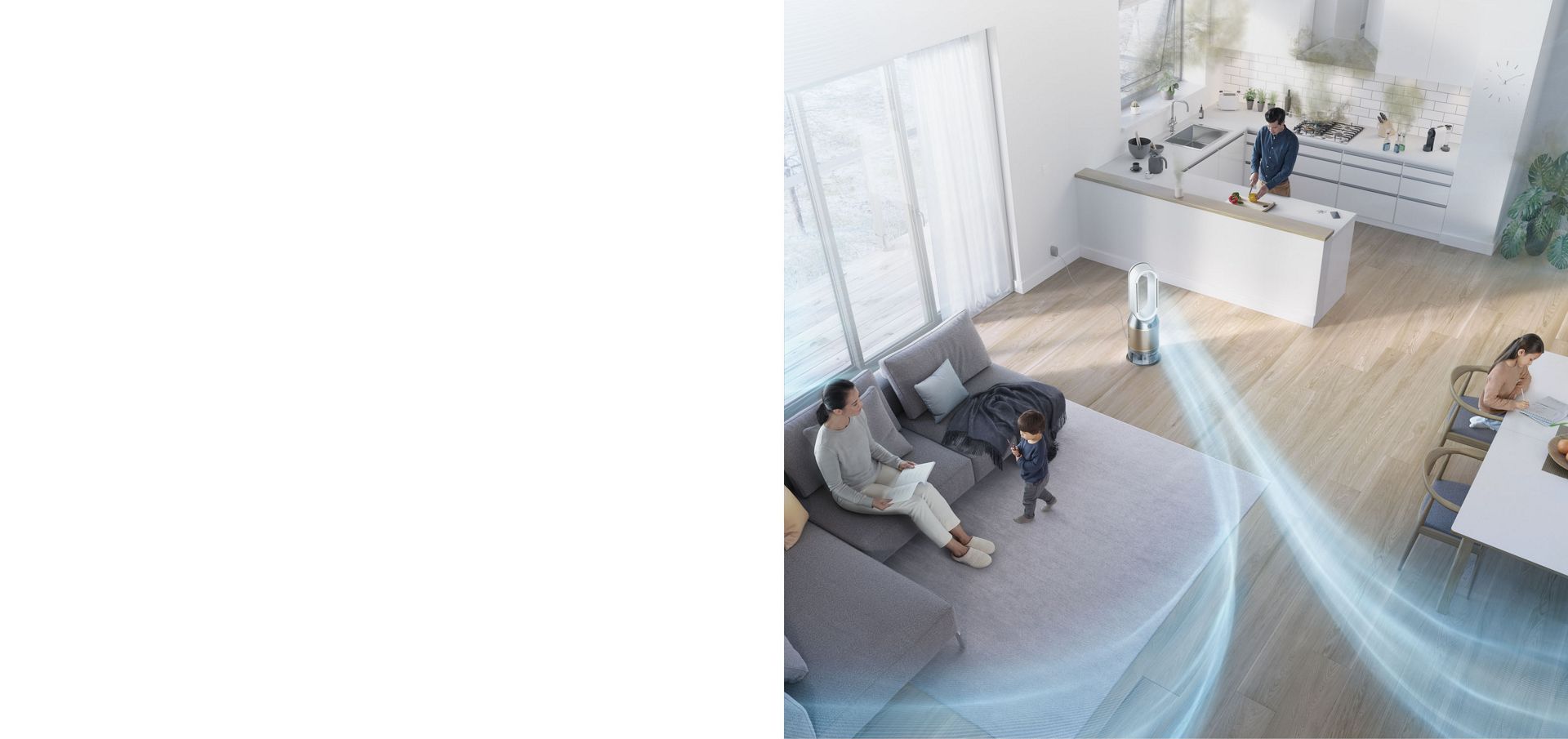 And purification too
Many household items release pollutants like pollen, dust, pet allergens, odors and smoke. Formaldehyde can emit for years from furniture, flooring and bedding. Dyson purifiers sense and capture these pollutants, while continuously destroying formaldehyde.¹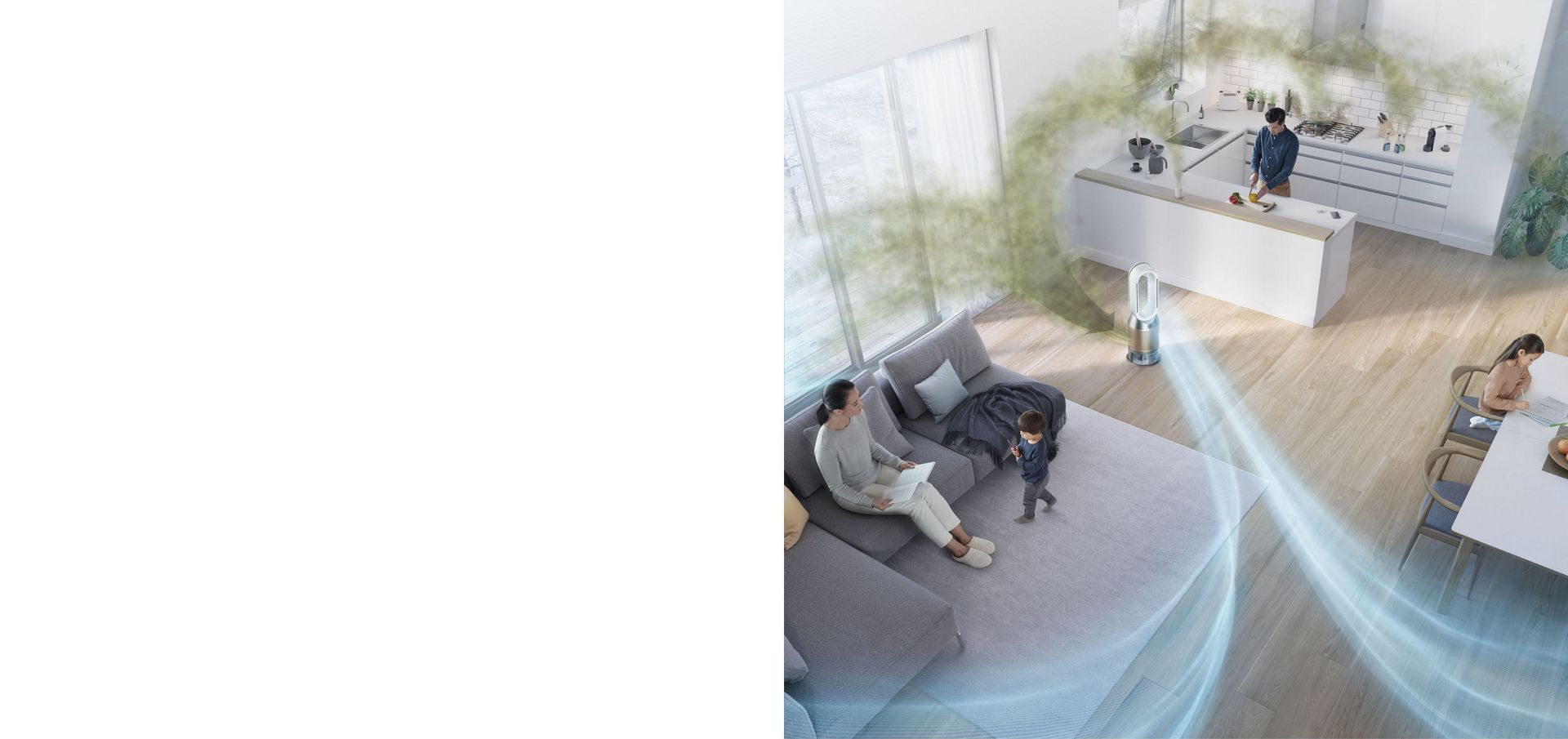 Powerful circulation to purify and humidify the whole room⁶
Dyson purifiers draw pollutants, such as pollen, dust, allergens and smoke, from every corner of the room and Air Multiplier™ technology projects purified, humidified air throughout the room.⁶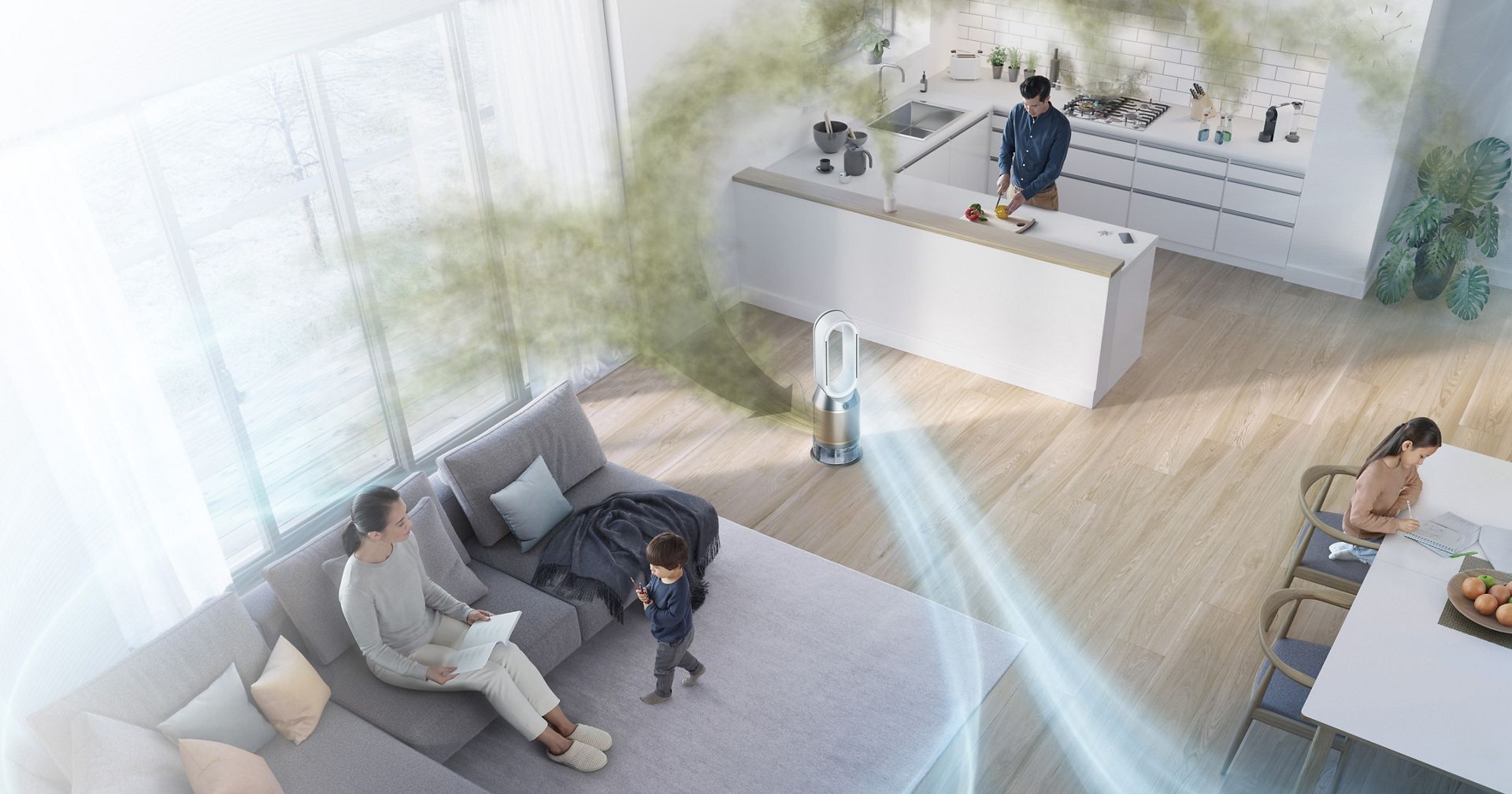 Dyson purifier humidifiers are tested beyond the industry standard
We test our purifier humidifiers in a room size of 81m³, with nine sensors that continuously measure air quality. Some other manufacturers use a small 28.5m³ chamber, with only one sensor and a fan to boost circulation.

Industry-standard test chamber – only 28.5m³

Dyson POLAR test chamber – 81m³
Senses and reports, automatically
Four sensors constantly monitor your air, including a lifetime solid-state formaldehyde sensor. Our unique algorithm diagnoses pollutants at a molecular level – reacting to purify and humidify before displaying live air quality in real-time reports. You can use the Dyson Link app to do this.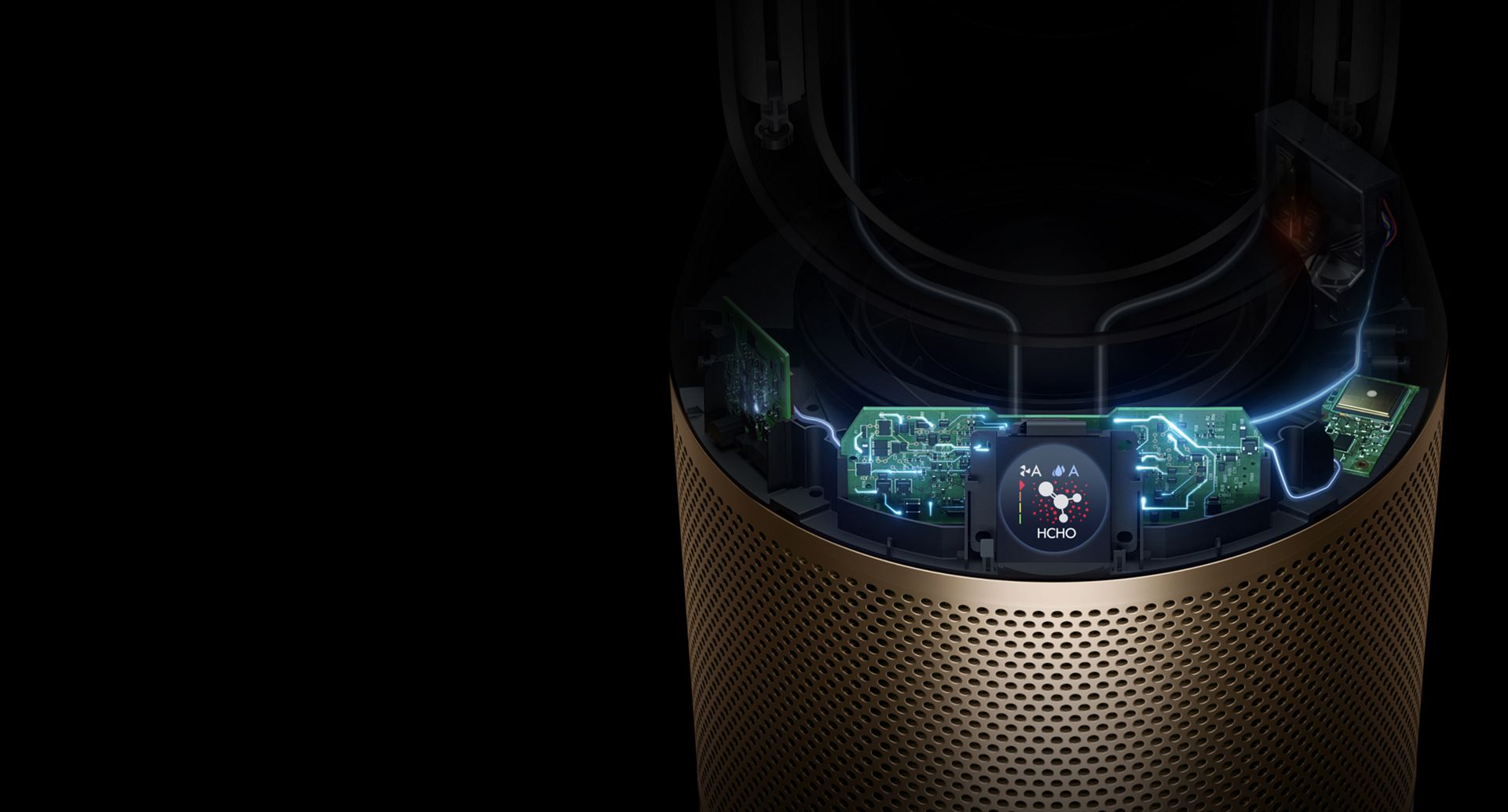 Solid-state formaldehyde sensor. For lifetime precision.
Our latest purifier humidifier uses an electrochemical cell to precisely detect formaldehyde molecules – 500 times smaller than 0.1 microns. Solid-state electronics ensure it maintains performance for the lifetime of the machine.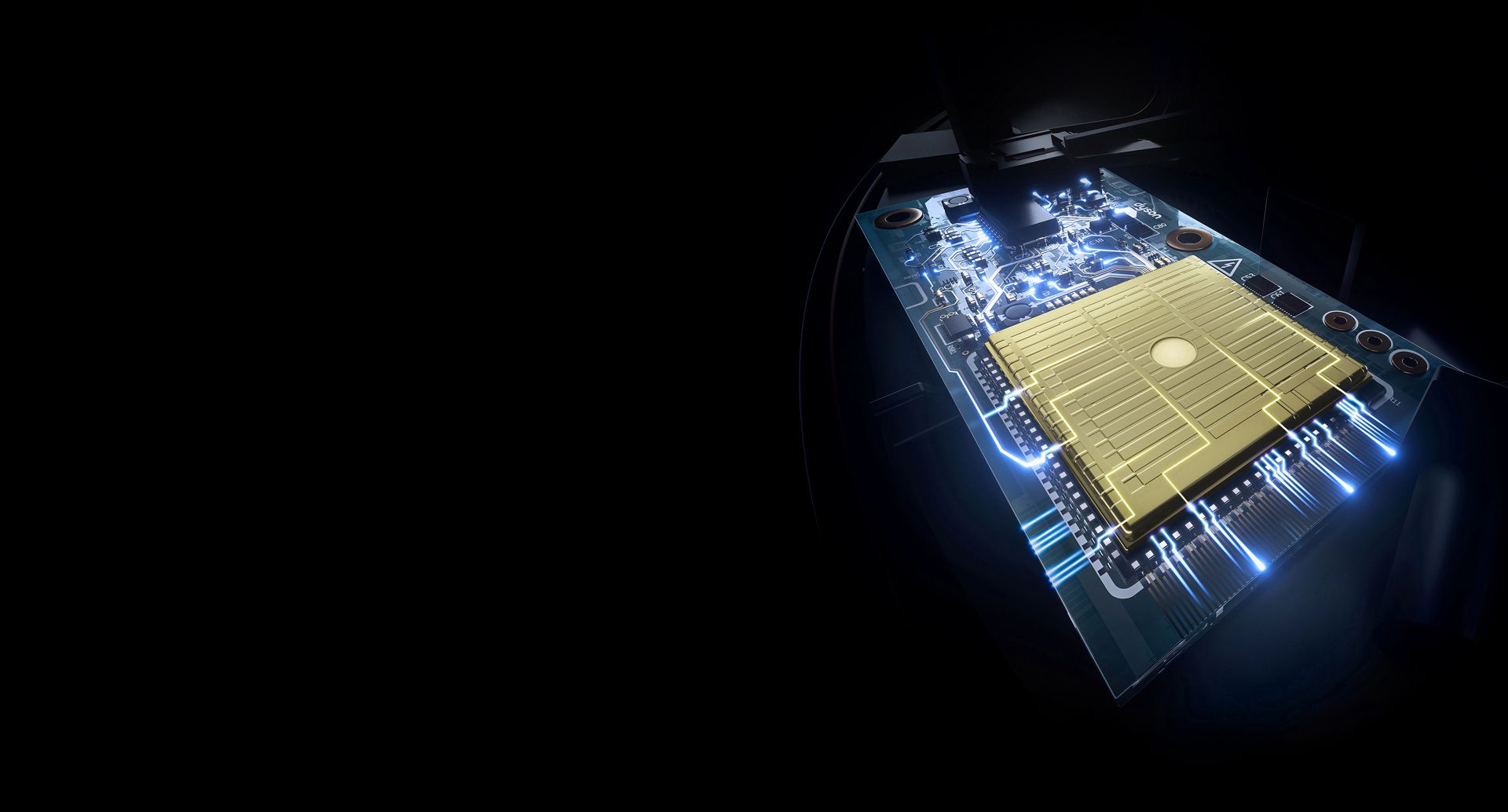 Captures ultrafine pollutants and allergens
A HEPA H13 filter captures 99.95% of particles as small as 0.1 microns,⁵ a carbon filter neutralises gases and a catalytic filter destroys formaldehyde.¹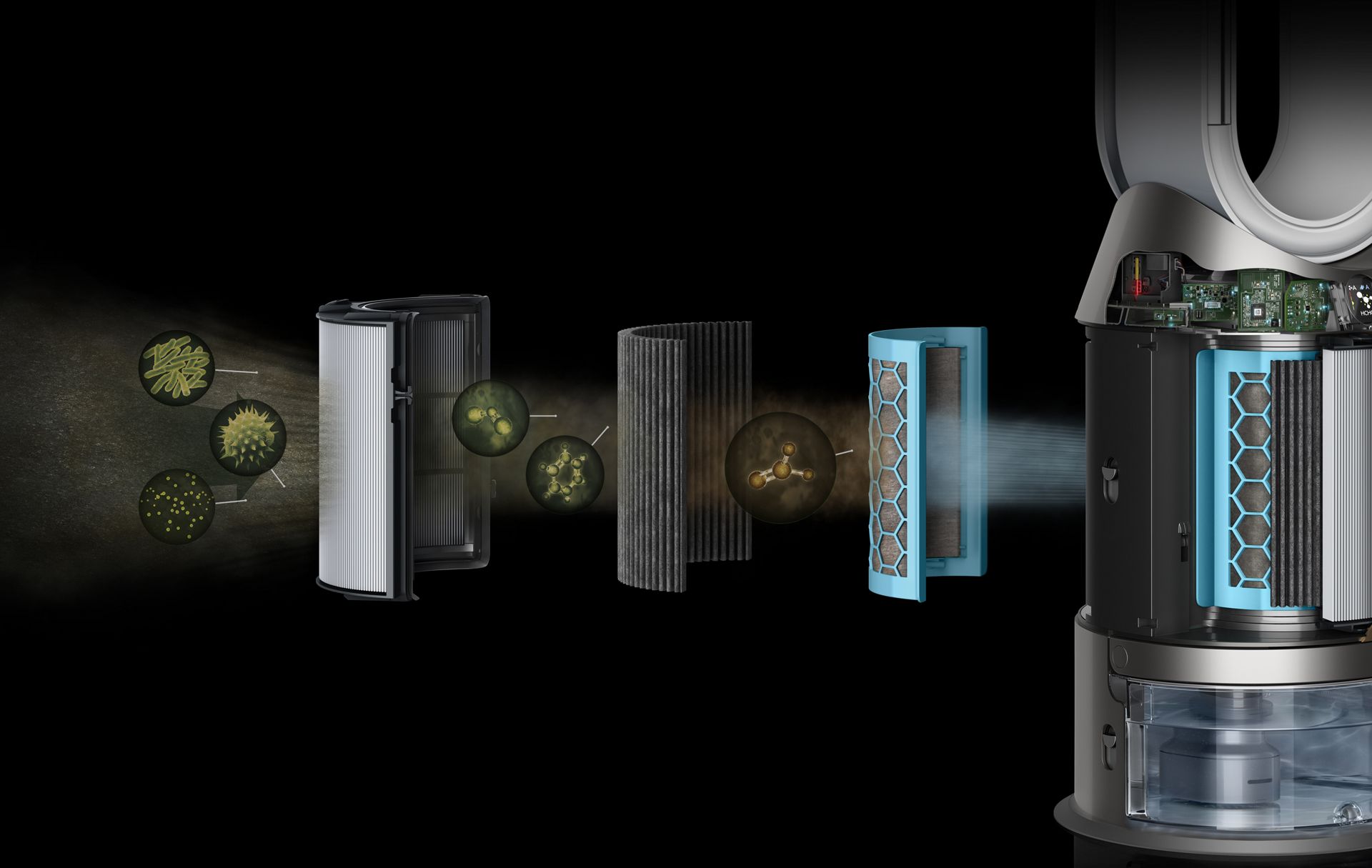 Destroys formaldehyde, continuously¹
Dyson's unique catalytic filter continuously traps and converts formaldehyde into water and CO₂, in billions of catalytic tunnels.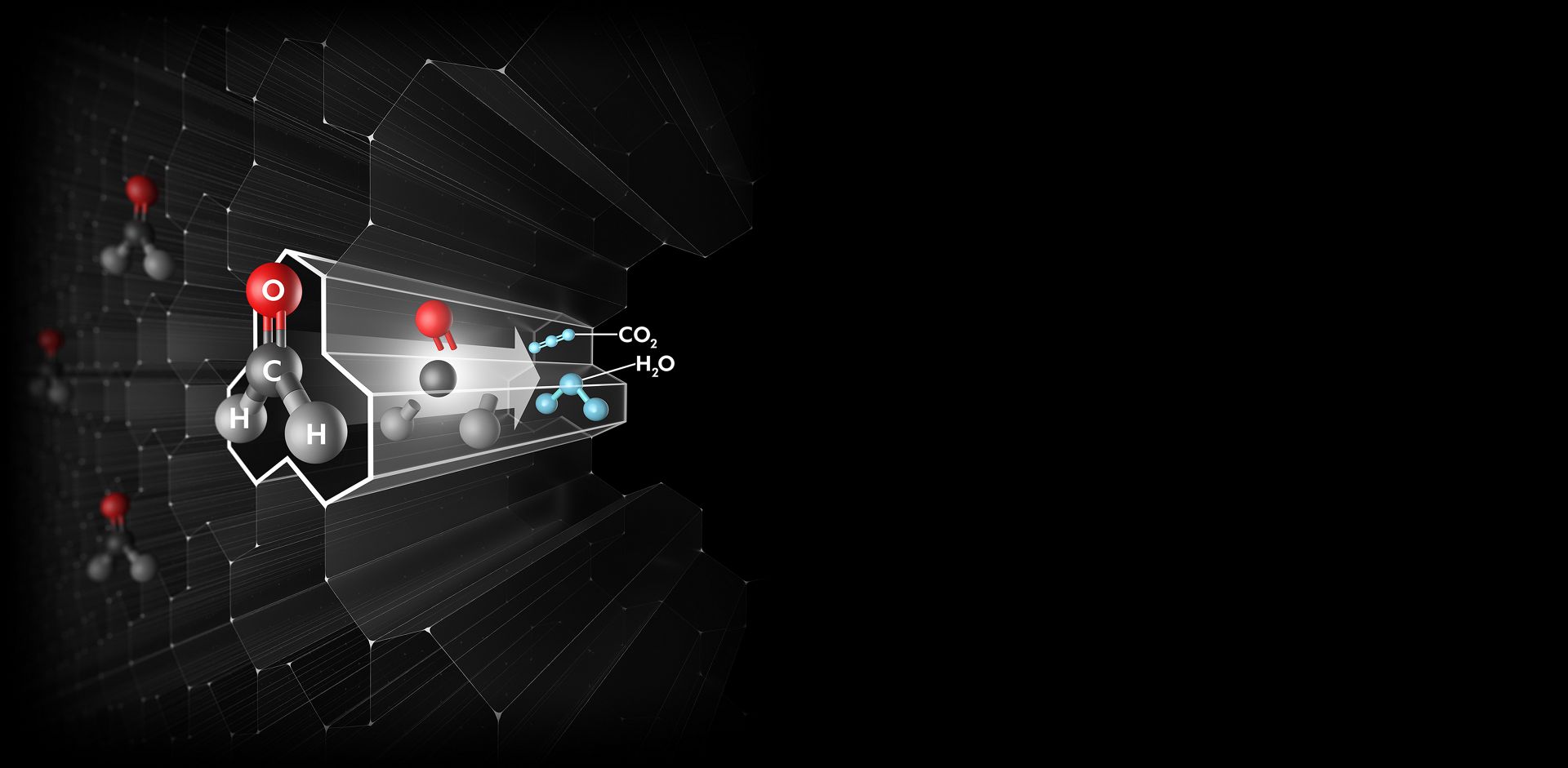 Captures microscopic particles and gases
The fully-sealed filtration system captures many common household pollutants Including formaldehyde, pollen, bacteria and odours.

Dyson is fully sealed to HEPA standard³
To prevent pollutants leaking back into the air, it's not just the filter that's sealed to HEPA standard, it's the whole purifier humidifier.³ So what goes inside, stays inside.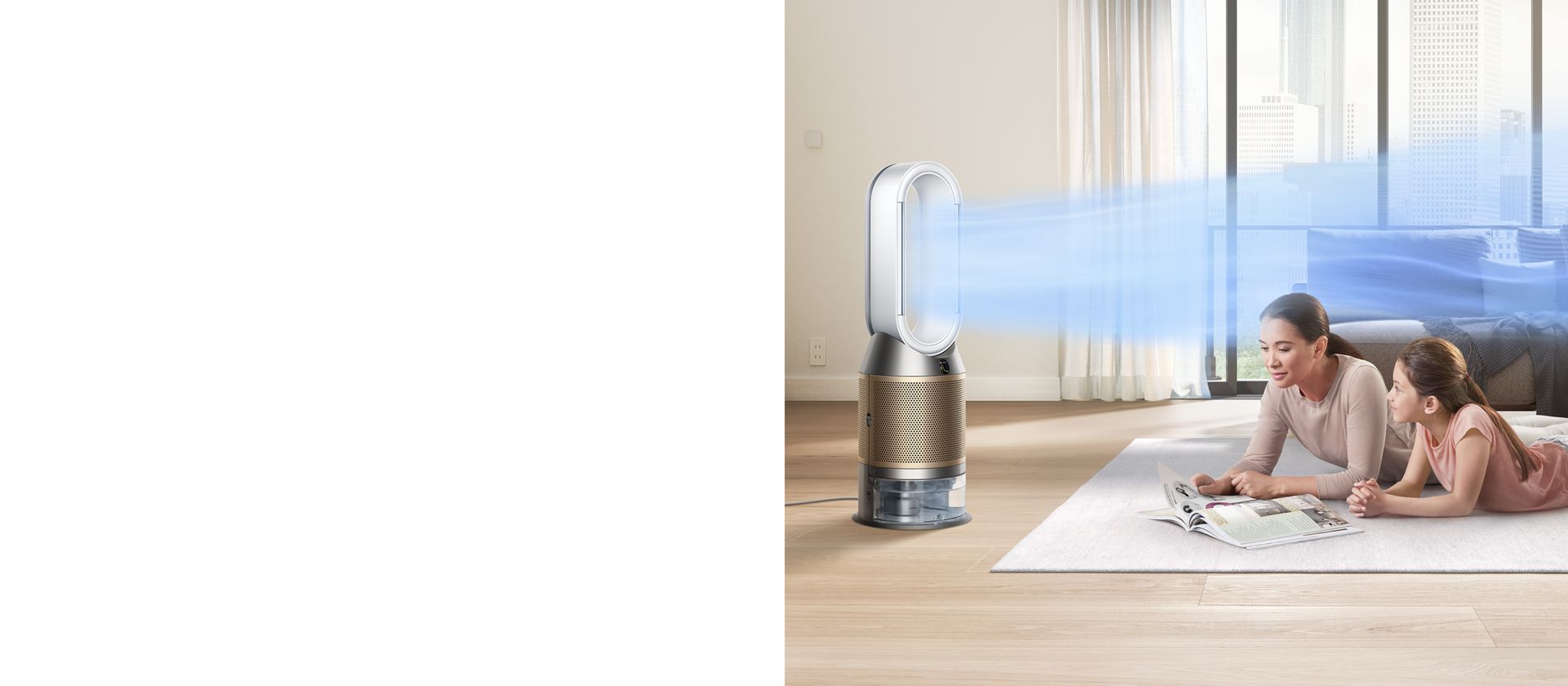 Destroys potentially harmful bacteria
Dyson Ultraviolet Cleanse technology exposes every drop of water to a powerful λ275nm UV light. This kills 99.9% of bacteria in the water. Cleansed water is then evaporated, humidified air is projected throughout the room.⁶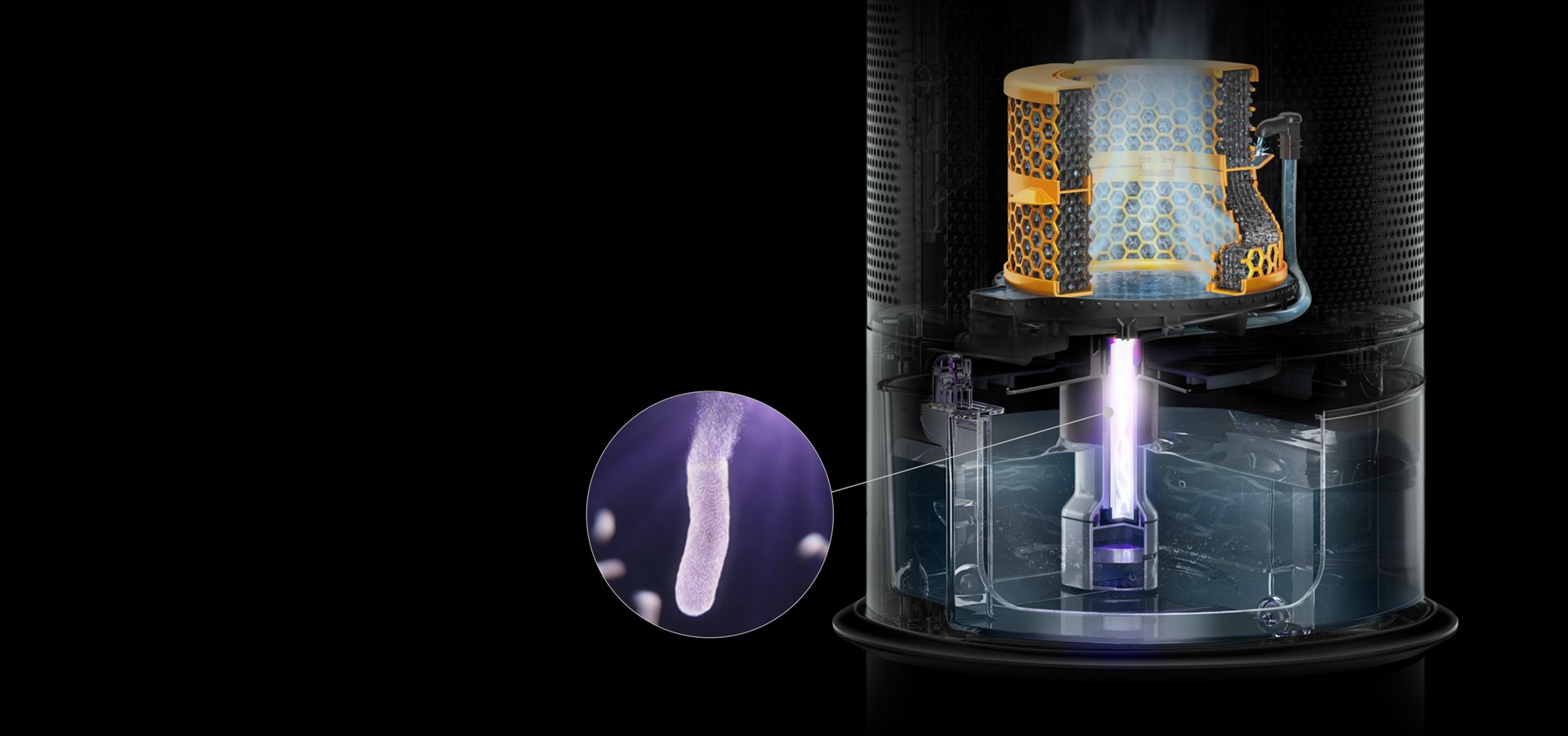 To humidify your environment, hygienically
Central heating and air conditioning units can contribute to dry air developing in the home, which can cause dehydration. The Dyson purifying humidifying fan automatically maintains the target level of moisture in your air with an invisible stream of evaporated water, and no mist – for a more comfortable environment.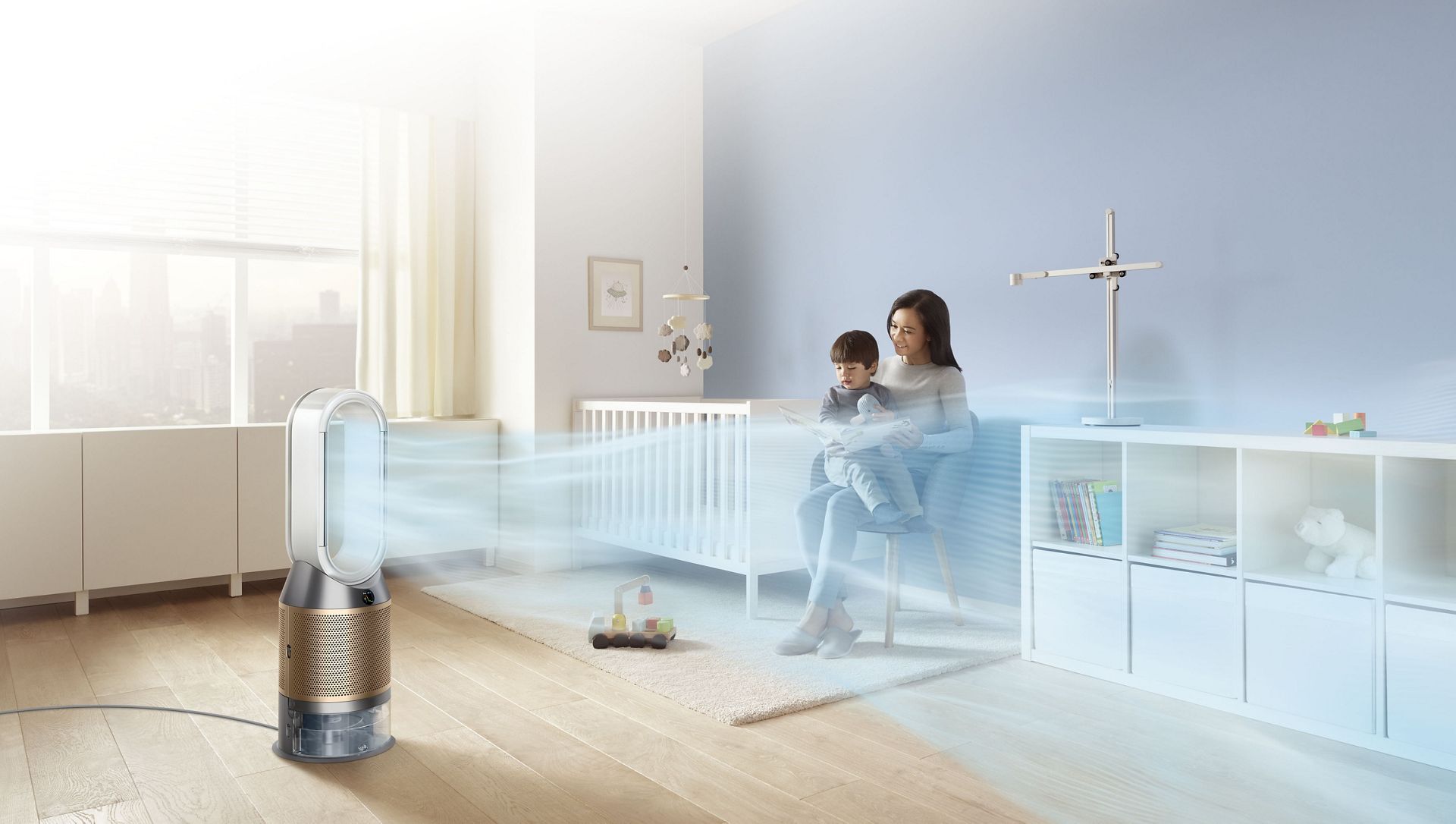 Hassle-free Deep clean cycle
The Dyson hassle-free Deep clean cycle thoroughly removes mineral build-up throughout your machine's water system. At the touch of a button, the cycle activates and guides you through a simple step-by-step process.
Smart purification, by app or voice
See which particles have been captured, set schedules and more.⁷ Control your machine hands-free, using compatible voice services such as Amazon Alexa, Google Assistant or Siri.⁸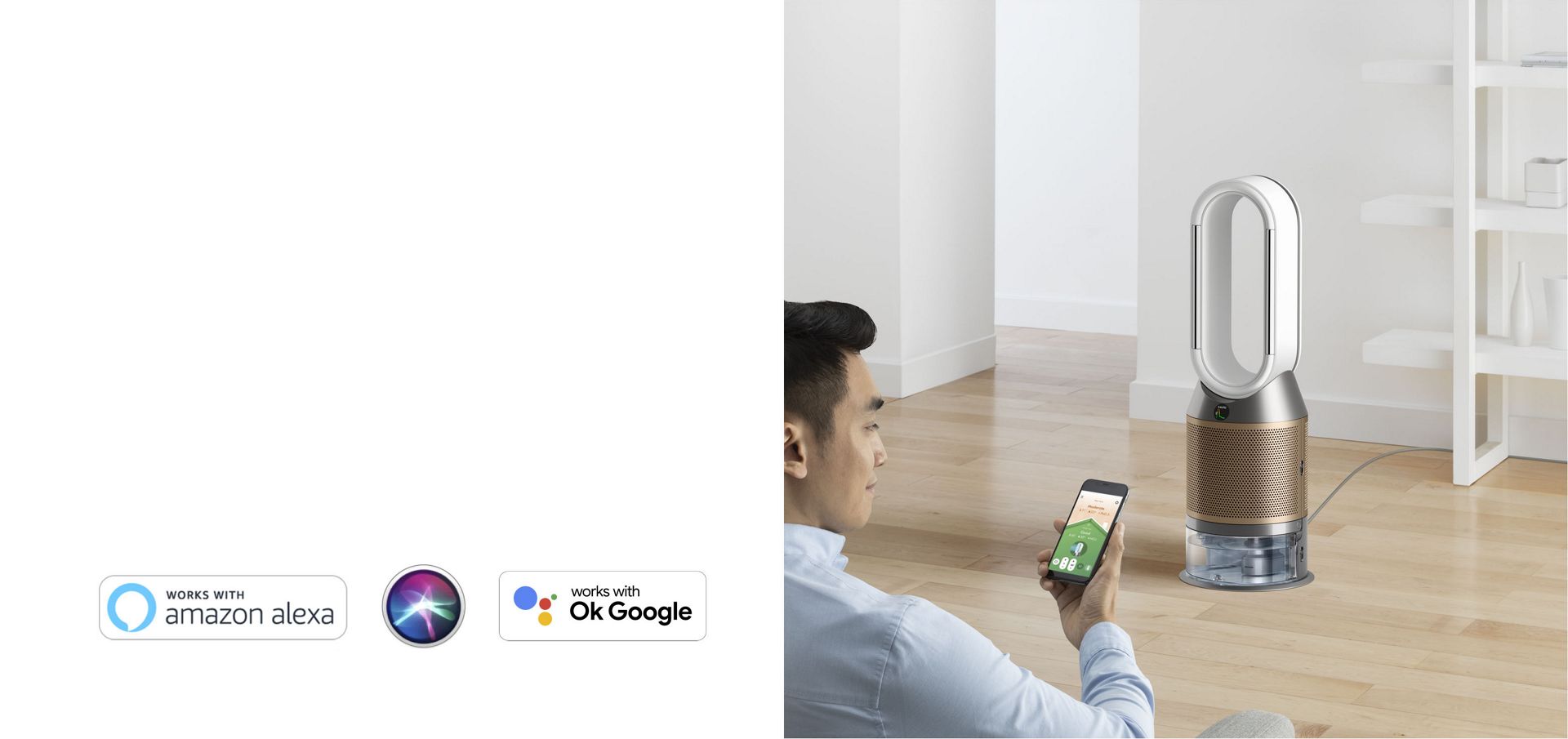 Complete control, at your fingertips
The Dyson Link app lets you monitor and control your purifying humidifying fan. So you can understand and adjust the conditions in your home, from wherever you are.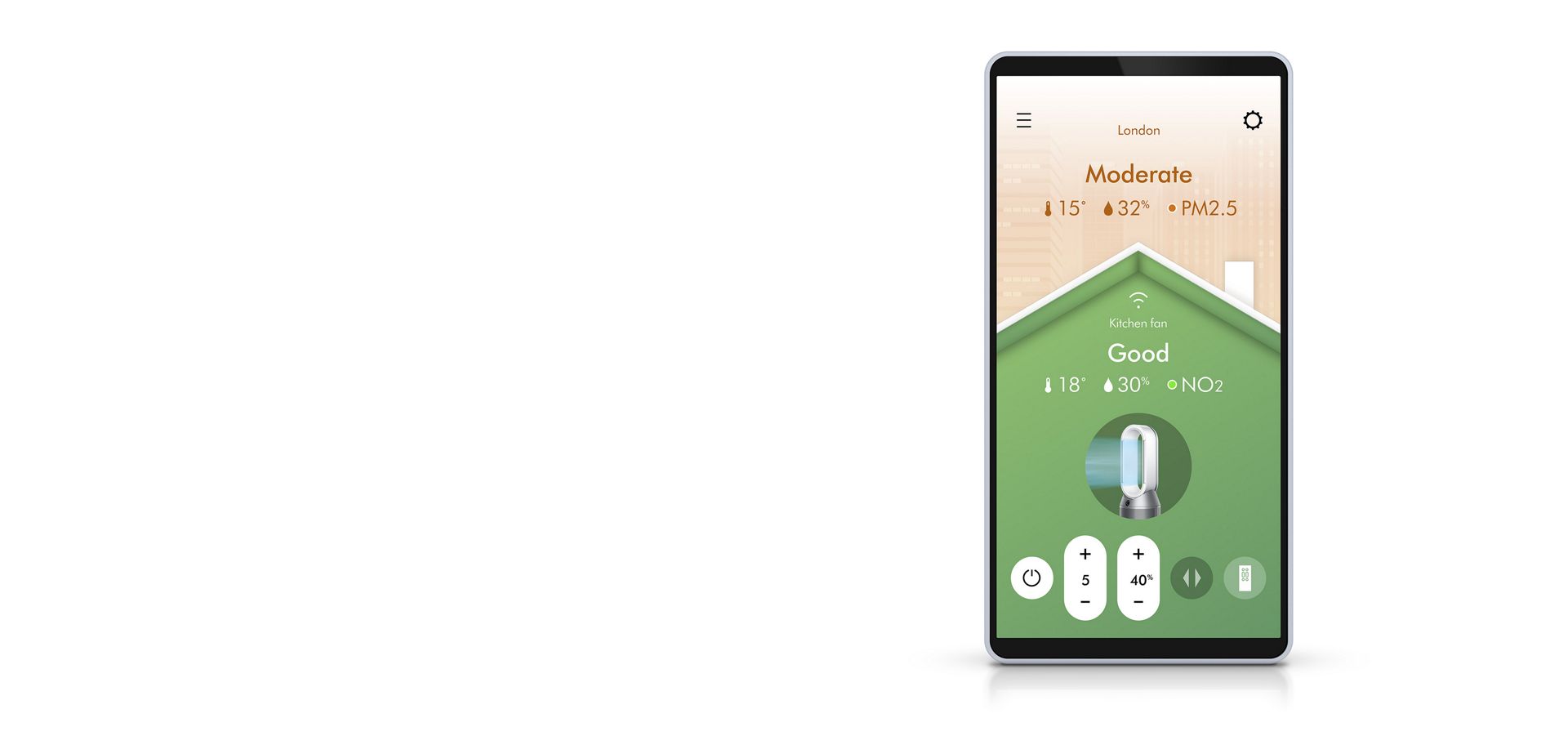 Real-time air quality reports
Displays real-time air quality reports, so you can monitor air pollution and humidity levels.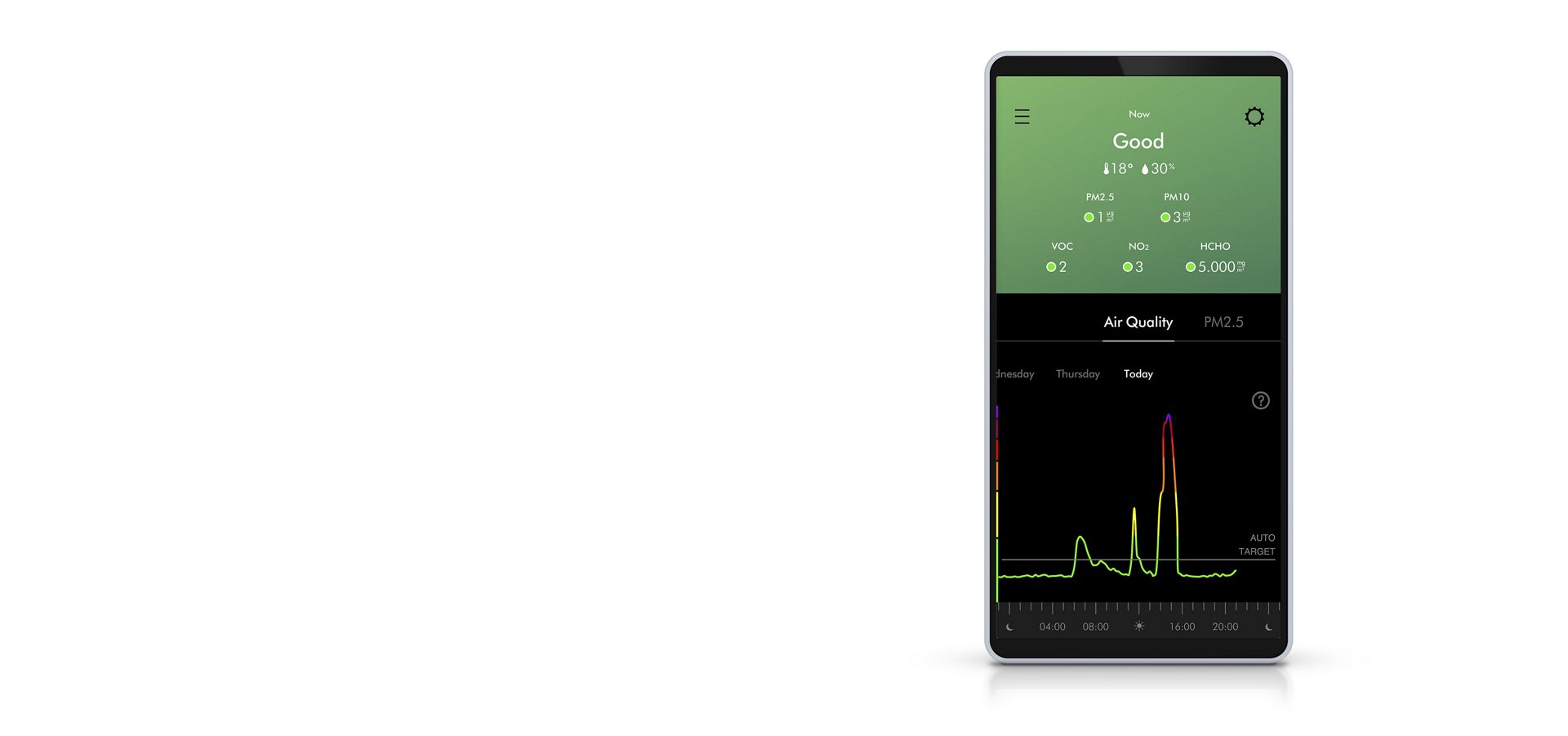 Keeps you updated
Notifies you when your machine needs cleaning, or your filters need replacing. So you can ensure your machine is always working at its best.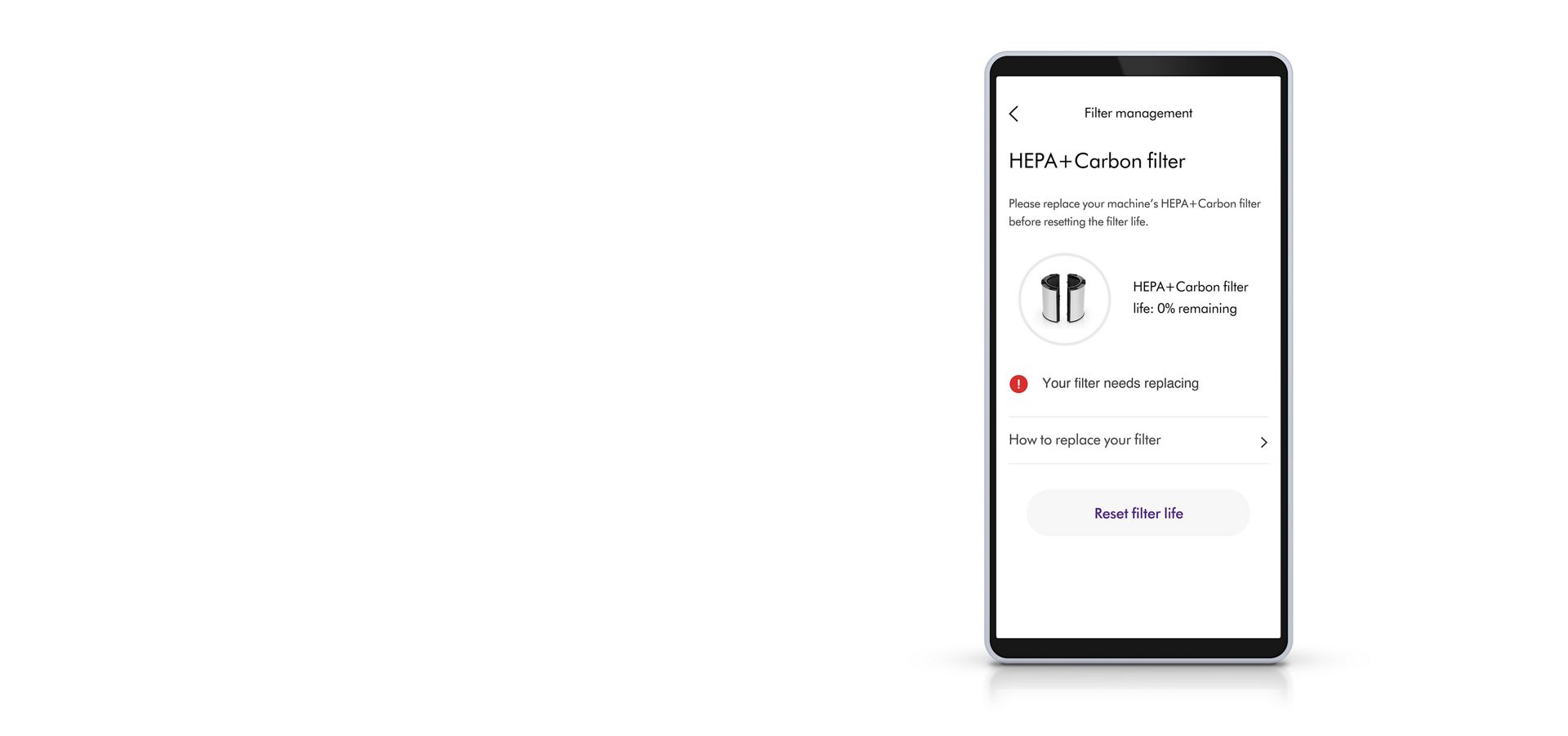 Frequently asked questions
The Dyson purifier humidifier senses and captures pollutants and measures the level of moisture in the air – automatically. Then, it projects purified and hygienically humidified air around the whole room⁶, cooling you when needed.
Yes, to get the best results, a purifier humidifer should be used all year round. To help combat dry air from central heating and air conditioning, and capture pollutants such as dust, smoke, odours and pet allergens. With pollen more present in summer, and pollutants such as formaldehyde emiting from furniture and flooring, there is benefit to using all year round. You can also use the purifier humidifier when sleeping, on night mode.
We've re-engineered our latest purifier humidifier to be fully sealed to HEPA standard.³ With a hassle-free Deep clean cycle that removes limescale throughout your machine's water system.
The Dyson Purifier Humidify+Cool Formaldehyde has all of the capabilities found in our advanced purification products but goes a step further to detect and destroy formaldehyde.¹ An added solid-state sensor precisely detects formaldehyde, while our catalytic filter breaks it down into two safer molecules – carbon dioxide and water.
Formaldehyde is a polluting gas formed of carbon, hydrogen and oxygen that is commonly found in homes. Common sources of formaldehyde could be: paint and varnishes, air fresheners, mattresses, furniture, household cleaners, carpets, particleboard and plywood, electronics, dryer sheets, nail polish remover, moth balls, toys, fireplaces and wood burning stoves.
Your Dyson Purifier Humidify+Cool™ is engineered to purify and humidify single rooms, so you should use it where you spend the majority of your time at home. When placing the machine, make sure there's at least a few feet of clearance on all sides, so that the air can circulate effectively. Close doors and windows and place away from air vents.
Yes. The machine works as a purifier humidifier, or just a purifying fan.
This depends on the water hardness where you live. The machine prompts you to run the cycle once a month in hard water areas. It prompts you less often in softer water areas. You can select your water hardness with the Dyson Link app.
Additional features
Jet Axis control

Gives you full control of your airflow all year round. Two oscillators guide the airflow through the apertures, at a 90° range. You can adjust them to project separately, or in unison.

Anti-bacterial evaporator

Biostatic silver strands are woven into 3D air mesh at 6mm intervals. They help prevent bacteria from growing on the evaporator.
Black Friday
Detects and destroys formaldehyde, continuously¹
Purifies and hygienically humidifies a whole room²
Lifetime solid-state formaldehyde sensor
Captures H1N1 virus⁴
Black Friday Offer. Save SAR600.
Was

3,199.00SAR
2,599.00SAR
Save

600.00SAR
Black Friday
HEPA H13 purifier and fan
Detects and destroys formaldehyde. Automatically senses and displays real-time air quality
Whole-room purification for larger spaces
Control using the Dyson Link app
Black Friday Offer. Save SAR500.
Was

2,799.00SAR
2,299.00SAR
Save

500.00SAR
Captures dust, allergens and bacteria.
Whole-room purification. Heats and cools you.
Control with remote. Not app compatible.
Captures dust, allergens and bacteria.
Whole-room purification. Cools you.
Control with remote. Not app compatible.
¹Third party full machine testing based on GB/T 18801-2015 formaldehyde cumulative clean mass testing with continuous injection until plateau of formaldehyde CADR is achieved. Results may vary in practice.
²We challenged our purifier with airborne influenza A (H1N1 virus) at an independent lab. After 60 minutes at maximum fan speed, the airborne concentration in the chamber was reduced by 99%. Real-life efficacy may vary.
³Particle challenge by DEHS oil specified in EN1822 within a chamber specified in ASTM F3150. Tested in Max Mode at IBR US, for whole machine efficiency above 99.95%.
⁴Tested for filtration efficiency at 0.1 microns (EN1822, ISO29463).
⁵Japanese Ministry of Health, Labour and Welfare's 'National Indoor Air Field Survey Report', Summer 2013. Indoor and outdoor ratio based on the median value of 12 types of VOCs.
⁶Tested for purification coverage in an 81m3 chamber. Tested for humidification coverage in a 41m³ chamber.
⁷Requires device to run app, 2.4GHz or 5GHz Wi-Fi connection or mobile data, and Bluetooth® 4.0 support. For app compatibility, please search for 'Dyson Link' on the iOS App Store or the Google Play Store. Standard data and messaging rates may apply.
⁸Refer to the Dyson Link app for compatible voice services
⁹Gas capture may vary